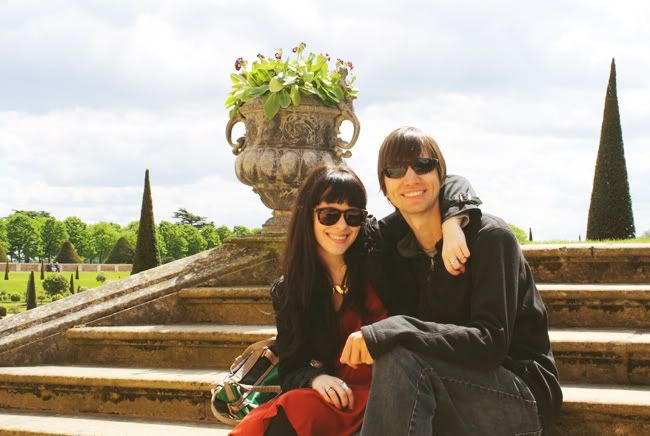 Sorry I've been absent of late. It's due to a combination of things, but in the past week and a half at least, I've been busy spending as much time as possible with Greg, who came to visit me in London (finally)! He got here on the 9th, and we spent most of the time hanging out, watching
The Apprentice UK
, eating takeaway, and walking to the ice cream shop down the road for late-night cones.
We also spent my birthday weekend in the countryside, exploring Chatsworth House and eating pasties and tarts in the Peak District. It was so awesome to spend my 26th birthday with my favorite boy. I can't believe I'm already 26. How has this happened?! Aren't I still 23? Ugh, aging is the worst! I'm pushing 30 now! At least I still get carded on a regular basis. It's becoming a good thing in my wizened years, especially here in the UK, where if you look over 25 or if you're ordering food they don't really seem to bother.
Photos of touristy things soon to come, especially Hampton Court Palace, home of sex god Henry VIII, but first I wanted to make a (SUPER LONG, SORRY) post about my ~future~ or whatever, since I have a hard time putting things into words when I'm talking to people one on one, and it's much easier for me to form coherent thoughts in a blog-type setting. So if you don't really care about this sort of thing, the future plans of an expat writer with a boyfriend in Salt Lake, then read no further.
Mostly I want to say, to everyone who's asked and with whom I've been super wishy-washy: I'm not going to be staying in London permanently, or even indefinitely. I'm not moving back to Portland (sadface). I'll be moving back to be with Greg, in Salt Lake City, for now. I know some of you (you know who you are!) are probably cringing now, and that's partly why I'm writing this here, to avoid having to "face" you over the internet and be subjected to your judgment.
But wait, I'm not done. I'm not just throwing myself headlong into the world of Mormons, 3% beer, and conservative blandness (SLC hipsters? do you exist?). Greg and I talked about it over the course of his stay, and what we stumbled upon was this: What I really want to pursue, right now, is my writing. Perhaps I found my 9-5 Monday-Friday career calling in publishing, but what I really want to do, ideally, right now, is to write novels. That's what I want to focus on in my old-ass 26-year-old life.
Greg, amazing man that he is, has offered to basically support my artist butt in Salt Lake for a while (6 months to a year, tentatively), while I do that. We did the math and it's feasible for me to work part-time, while writing the rest of the time. Greg is willing to do this so I can pursue my dream, and so he can stay in Salt Lake a little longer to look for a better job and hopefully build up his resume a bit before we move somewhere else.
And we will move somewhere else. Greg knows I don't want to put down any roots in Salt Lake, and neither does he. So we won't be there forever, and when we do move, it will be beneficial to both of us, and hopefully I'll have a finished novel or even an agent, or a published novel if I'm super lucky, who knows; and Greg will have more professional experience under his belt. I'll be doing what I love to do, and Greg will be kicking ass and taking names in the professional world. I don't feel like I'll be stagnating, or waiting, or putting off my dream this way. I'll have enough time to write, and Greg will be getting super valuable work experience.
I was afraid of Salt Lake because I didn't want to get apathetic, to get stuck, and because it sounds like a boring as hell city. But, that said, I'm really happy with this compromise. It means I can focus on writing, stay with Greg, and know that pretty soon we'll be getting out of Salt Lake and going somewhere more exciting with more opportunities for us. It's like a pit-stop on the road to Awesome. Let's see if this post can be more cliche and cheesy!!
Seriously though, I'm happy about this. I'm really happy that Greg is so willing to support me while I focus on writing for a while. I always used to think it would be amazing if Greg could just work and I could sit at home and write, but it was just a fantasy, so obviously I never brought it up. But Greg brought it up himself, and I'm just so blown away by his ridiculous support and generosity. I feel like I fell in love with Greg all over again while he was here in London, and I can't wait to continue our life together! But first I'm gonna enjoy the hell out of the UK while I still can. So watch out. 'Cause... Meg is comin' atcha, UK. To drink your tea. Actually mostly just to continue drinking coffee. And eating Mars Bars.