I really should be working on the second draft of my novel (I feel like I've made no headway after weeks of working on it uuurgh), but instead I'm gonna get this blog post out of my head to make room for more Duke/Cecily UST moments.
I already made a post about some of my favorite moments from living in London, but a lot of the best memories were left out because they've been waiting for this post -- my favorite geeky moments in the UK! Yeah okay most of my life is a series of geeky moments, but these are the super cool ones okay. As a fangirl, I have to say, moving to London was a
really
good idea in terms of meeting famous British hotties, seeing my favorite musicians live, and basically having an amazingly geeky time.
In no particular order: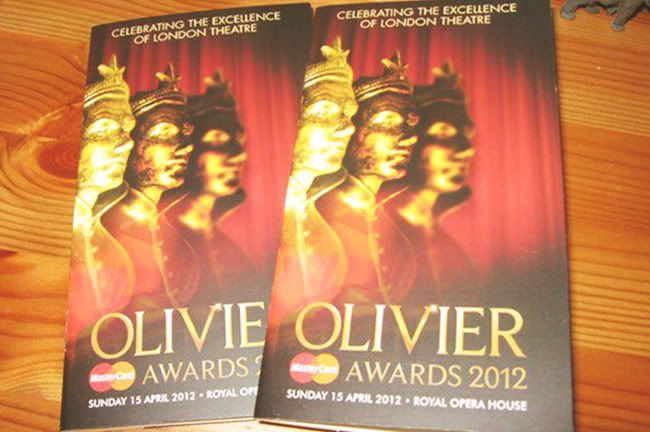 The Olivier Awards. This was perhaps one of
the
coolest things Shaun and I did in London, partly because it was utterly unplanned. Shaun managed to win tickets to the awards show on twitter, about 2 days in advance. We were way up in the balcony about a thousands miles from the stage, but what an amazing experience! We got to walk the red carpet, drink free champagne at the interval,
and
I had an actual conversation with Harry Lloyd. Total highlight of my year! (You can read my lengthy post about the Olivier Awards
here
.)
The European premiere of
Avengers Assemble
! Shaun and I met up with a bunch of internet friends and wore matching Team Loki shirts. Basically the dorkiest, most fun film premiere ever. (You can see more pics from the premiere and read more about my fangirl obsession with Loki
here
!)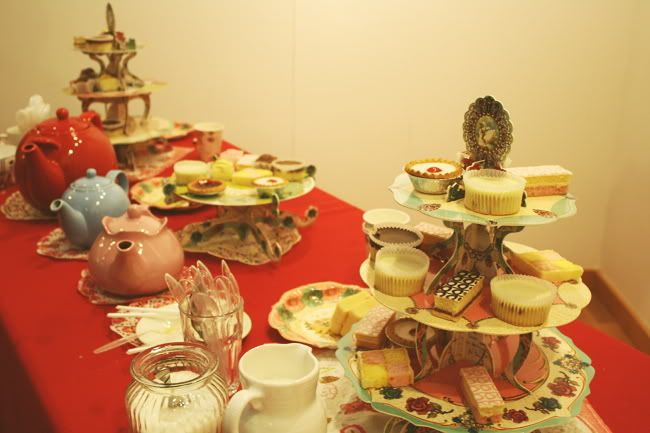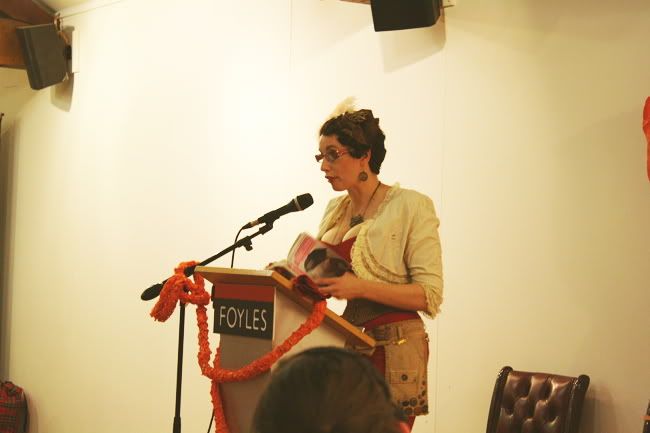 Meeting Gail Carriger at the Steampunk Soiree at Foyle's. I'd only read her book
Soulless
at this point, but I was already a huge fan. Gail Carriger is my literary hero, and the kind of author I strive to be. She's funny, she wears steampunk outfits to her signings, and there was tea and cake. Can you think of anything more awesome? (Full post about the Steampunk Soiree
here
.)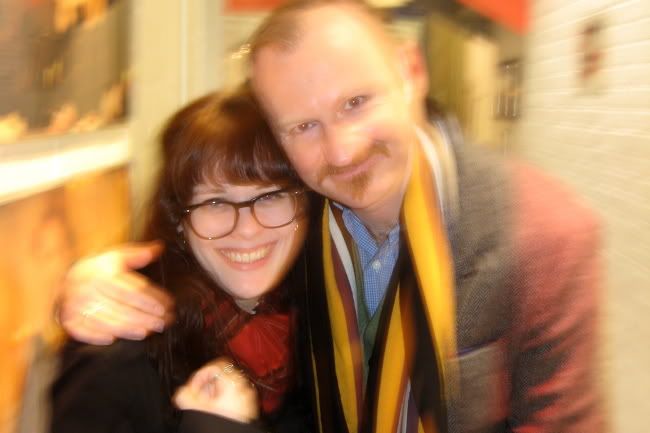 MARK GATISS AGAIN!
Possibly the BEST geeky/fandom moment in my life, EVER, was going to the
Sherlock
screening at the BFI, in advance of the series 2 release. We got to meet the cast and crew, not to mention see "A Scandal in Belgravia" weeks early, and seriously LOOK IT'S BENEDICT CUMBERBATCH IT DOESN'T GET MUCH BETTER THAN THIS GUYS. (Full post
heeeere
!)
Going to MCM Expo and meeting Gideon Emery and Adam Howden, the voices of two of my very favorite video game characters, Fenris and Anders from
Dragon Age 2
! It was so great, they signed photos of their characters. Fangirl squee! (Read my post about the MCM Expo
here
.)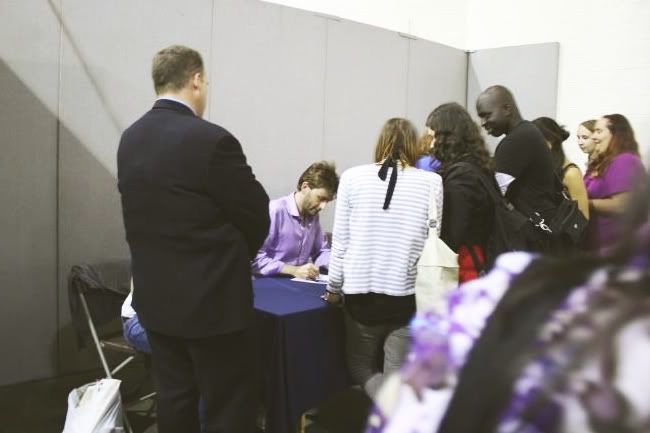 Meeting David Tennant at the Entertainment Media Expo! This was such a crazy day; I woke up at noon, saw on facebook that David Tennant was doing a signing at a convention in London, and went to full-on crazed fangirl mode for the rest of the day. Spent way too much money on an autograph, but hey DAVID TENNANT LOOKED AT ME AND SAID "HERE YA GO" AND HANDED ME THE SIGNED PHOTO, I can basically die happy. (Lengthy and spazzy post about the whole day can be read
here
!)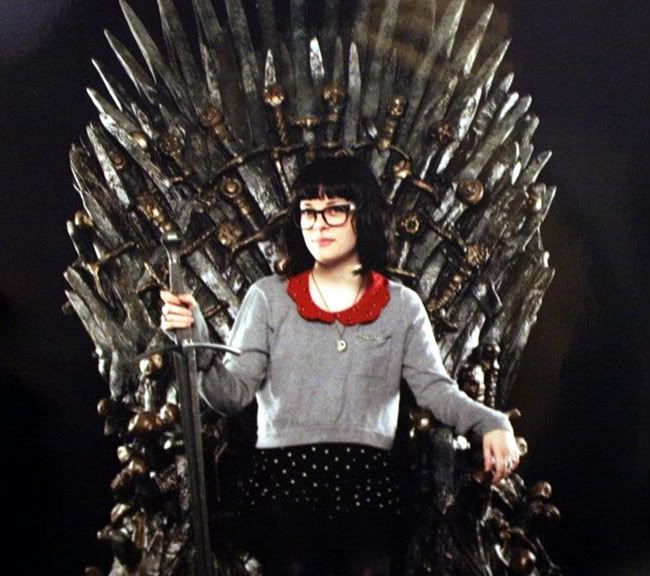 Game of Thrones
related fangirling at London Film and Comic Con! I did not make a full post about this, because I'm really goddamn lazy, but I mean look at these photos, this is all you need. Shaun and I had our pictures taken on the Iron Throne, and Shaun met Iain Glen (I was too cheap to pay for an autograph but I took many creepy photos from the sidelines). KHALEEESIIII! I also had my picture taken with a British Boba Fett, Chris Judge as Teal'c, and found some really cool
Dragon Age
cosplayers. It was a good day!
Okay this one doesn't have a pic to go with it, but it's arguably my very favorite geeky/fangirl moment in London. Shaun, Lucy, and I had just gotten out of a concert to see one of my fave artists, Lights, and were heading to the coat check when I thought I recognized Allen Leech, the chauffeur Branson from
Downton Abbey
standing with a group of guys in the bar. I kept being like, "No seriously Lucy I think that is the guy from Downton, does it look like him? Is it him?" and craning my neck like a creeper. At last I had to find out if it was him, and after a few minutes of standing in line for my coat staring at him, I was pretty convinced. So I went over and awkwardly said, "Hi, sorry, but do you just really look like, or are you..." and he goes, "Tom Branson? Yeah!" And thus we ended up standing around with Allen Leech and some of the dudes from the opening act and various Irish hotties, for a while. It was so much fun because it wasn't a fan event, it was just running into a minor celeb who happened to be super cute and fun to talk to! Also he was a bit drunk, so that helped. He let us touch his hair extensions, and he tweeted at Shaun because she followed him on twitter. It was basically really ridiculous and fun, and I'll probably never forget it! Those are my favorite celeb encounters, or really the sorts of ones I fantasize about, because they're not sitting at a table being paid to sign stuff for you; they're just doing their own thing and hanging out and willing to chat for a few minutes.
So there you have it, some (most) of my favorite geeky/fangirly/fandomy moments in London! I'm sorry this is such a long post. But it is mostly for me and Shaun to look back on for nostalgic purposes, and if you enjoy it, then awesome!
Wow I have done a lot of really cool stuff in England, haven't I? Life is really good. I am a really lucky person and I can't say enough how grateful I am for every single moment I've had here in the UK. Seriously I can't say it enough. I am so grateful.