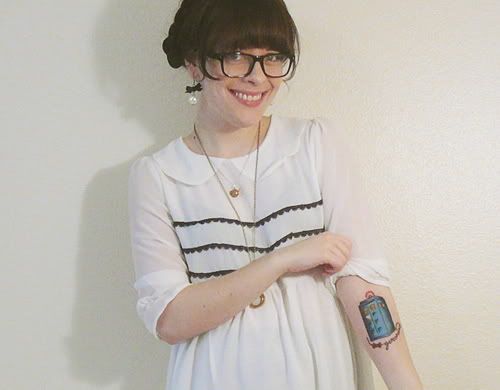 Everybody, say hello to my brand new tattoo! A lot of you probably saw it on twitter already, but I wanted to make a little post about it so those of you not "in the know" can understand why I put a blue police box on myself for all of eternity. I figured I'd do a little FAQ here since I've been getting a billion questions about it!
Q: What the hell is that thing on your arm.
A: It's the
TARDIS
(Time And Relative Dimension In Space)! The TARDIS is a time machine/space ship from the BBC show
Doctor Who
, in which the Doctor travels with his companions doing cool stuff. It looks like a police box but it's bigger on the inside! Beneath the TARDIS is a bow tie, and the word "geronimo." These are there because my Doctor is the Eleventh Doctor (played by Matt Smith), and he wears a bow tie, and his dorky as all hell catchphrase is "geronimo!" Essentially this is the nerdiest tattoo known to mankind. (Unless you count my friend Rachael, who got a TARDIS that says "allons-y!")
Q: Why would you do that to yourself!
A: I heart
Doctor Who
. A lot.
Q: Did it hurt omg how much did it hurt.
A: Yes it hurt like a motherfucker. Nobody warned me that it would hurt so much, but I'm glad they didn't! Otherwise I'm not sure I'd have done it. Well I would... but I think I would have pooped my pants beforehand. It seriously hurt a lot! Like someone dragging a needle across my skin. Oh wait that's basically what was happening.
Q: How big is it!
A: As you can see in the photos, it's about 4 inches tall! Bigger than I had originally planned, but I like it exactly how it is now.
Q: Are you happy with it?
A: Yes, yes I am
completely
happy with it! It would kinda suck if I wasn't, haha, but I totally am. I think the style suits me perfectly, and now I am branded with the love of my favorite show and my favorite Doctor, which I think is pretty kickass. So yes, I LOVE IT! ♥
If you have any other questions feel free to leave them in the comments. And yes I am going to post bigger, clearer pictures of it soon, once it stops being swollen and peely. Gross.