A very belated blog post this evening! Greg and I got caught up watching the latest episode of
Game of Thrones
and an episode of
Community
, which we're nearly caught up on (ridiculously). All we did over the weekend was sleep in, watch
Community
, eat junk food, stay up 'til 8:00 in the morning, and then watch more
Community
. It was glorious, perfect, and just what I needed out of life.
This dress is a new one from Saturday, the day in which I spent lots and lots of money. They had this dress in a few colors and prints at H&M, but my favorite was this neon floral print on black. I love floral prints most when they're not too utterly girly, and I love the shape of this dress so much! Look forward to seeing it a lot in future.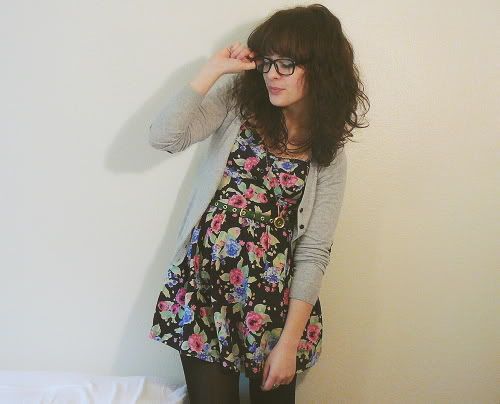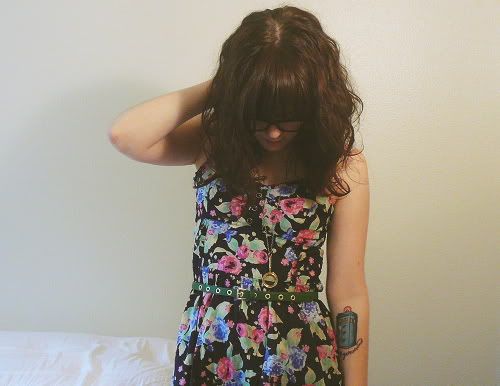 I'm wearing: H&M dress, belt, and cardi; necklace from Mom.
Not feeling the whole blog thing lately and I'm not sure why. Right now it feels like something I'm just churning out automatically because I should, not because it's something I really
really
want to do. I mean yeah I'm still enjoying it, otherwise I would just take a break altogether (and I'm wont to do so intermittently), but I'm just distracted by what seems like a million other things. Worrying about grad school, the million shows I'm watching, spending time with Greg, socializing, and whatever other dumb and pointless things I do when I get home from work. I know, it's not like I'm busy doing
real
things (unlike two weeks ago), but for whatever reason I feel like blogging isn't something I want to put forth a lot of time and effort to do.
No worries, though, I feel like this every once in a while and I'm sure it will pass! It had better, because I have a billion new things to dress up in, huzzah! I am excite.