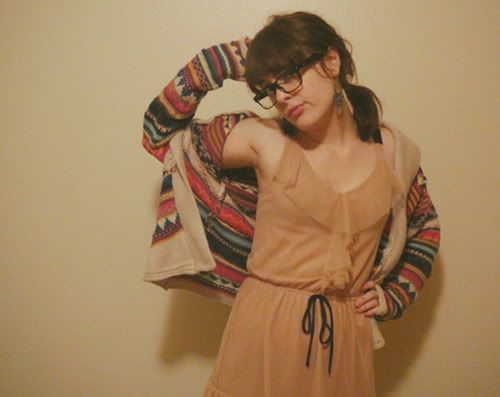 You see, I DO STILL EXIST! I
said
I'd get a memory card! And I did. 96783101002340256 years later. Also it is apparently too dark outside when I get home now to do outdoor shots! Must now bring tripod to work and do it during lunch, or continue with these really dark bedroom ones. We'll make that decision later.
So yeah, H&M happened. Oregon just got our first H&M yesterday, and it's in the Pioneer Place mall right here in Portland! It is three stories! It is INCREDIBLE. I peed my pants from the joy of it. I did. Pee everywhere. H&M YOU GUYS H&M I CAN'T EVEN. I WILL NEVER BE ABLE TO SAVE MY MONEY EVER AGAIN.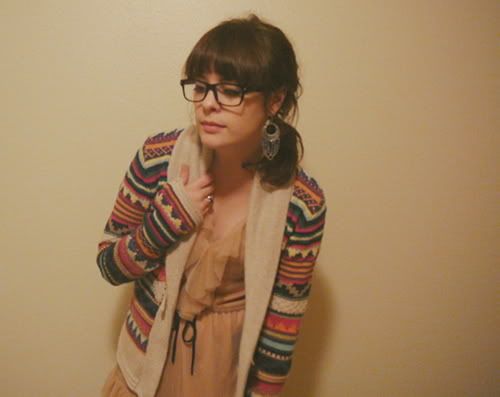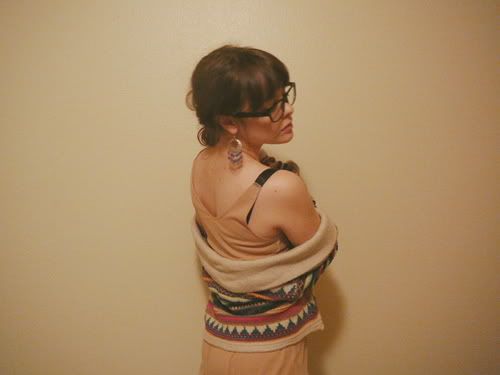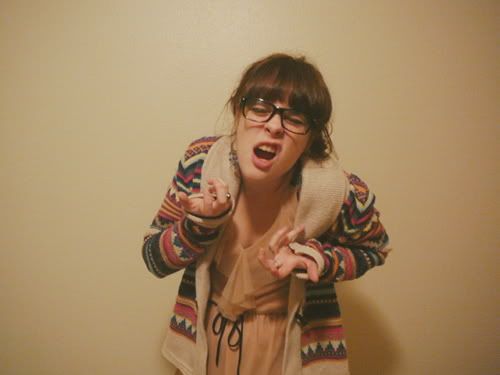 I'm wearing: H&M sweater, Target dress, Walgreens tights, Ross boots, Claire's earrings.
TURNS OUT, Walgreens has super high-quality, heavy duty tights for way cheap. This was a monumental discovery, as I tend to rip my tights about two seconds after putting them on, or even as I'm initially taking them out of their packaging. So to find some tights that stood up to my stretching and prodding at the store, and have lasted through the day (amazing) is quite the discovery! They don't really have the most exciting tights there, so I'm still going to Target for my patterned tights needs, but Walgreens is so where I'm going from now on when I need basic tights.
So I guess I'll update you all on what I've been doing lately in Megland, but it's really not that interesting. I've been working, and trolling the internet. No seriously I trolled omegle for a while but didn't get much response. I am Fail Troll. I've also been on
tumblr
obsessively, and if you're brave enough to click that link and visit mine, you'll see what I've been thinking about lately:
Sherlock
,
Doctor Who
(as per usual),
Harry Potter
,
The Mighty Boosh
,
Top Gear
, and various other British fandoms.
I'm reveling in my Anglophilia lately. I went to a traditional British fish & chips shop with a friend last night after ransacking H&M, and it was
so great
. They had all these imported sodas and condiments from Britain, and the decor was all London-y, and it was pretty much the best thing of my life, ever. If you're in the Portland area and you like English things, you should probably go to the Fish & Chip Shop on Killingsworth. You owe it to yourself.
SO WHO'S EXCITED FOR DEATHLY HALLOWS?
And lastly, my camera was being a complete cock and turning itself off every two seconds while doing my photo shoot (technology hates me lately), so I was all like: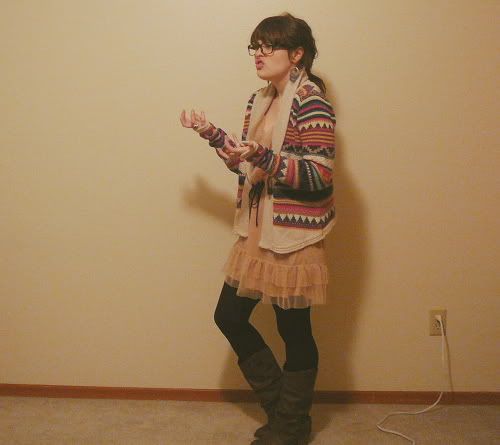 CAMERA, Y U NO TAKE PICTURE?
And now my blog has become ridiculous.