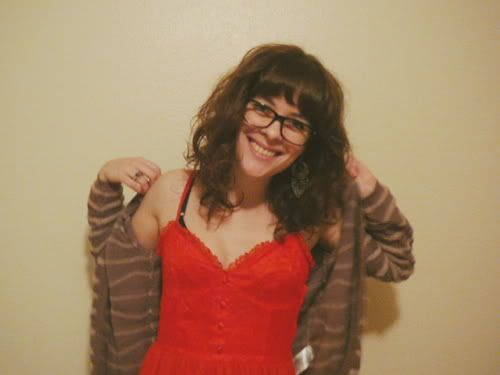 Ohohoho. I still can't be bothered to take my pictures outside. Welcome to Lazytown, population: me. Also my hair is super messy today! I don't know what happened, it just decided to be kind of a rat's nest. Not that I mind too much. It comes with the territory when you have curly hair.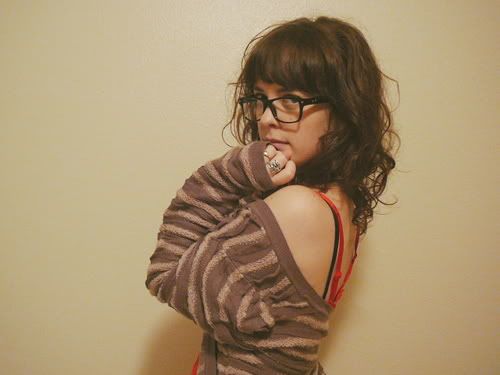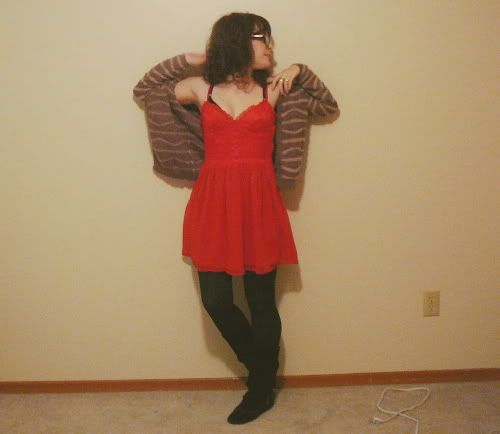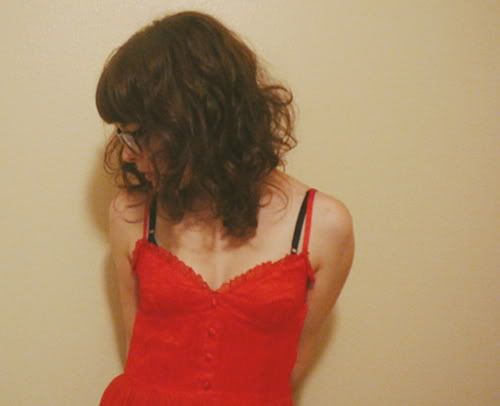 I'm wearing: H&M dress and cardigan, Walgreens tights, Delia's boots.
My dad bought me these boots years ago as a gift, and I only occasionally wore them, as I wasn't much of a boots girl until recently (I still feel like boots quite shorten my legs, and they're short already, but I love boots so screw it!). Now, though, I wear them every day.
Pretty much
every day, anyway. I love them so. You can't really see them at all in these photos, though; they just look like a black blob. They're really not a blob, I swear. They're super cute.
So here are some more new things from H&M, as you can see. The dress was purchased on Saturday, and it is the best dress ever, but clearly it's a bit... well, it shows my bra more than I'd like and I didn't know this until I got to work, but don't worry -- I had my cardi buttoned up all day. Speaking of this cardi, isn't it the best? Its texture is so great, and it's quite warm, and the little puff shoulders are icing on the cake. I knew I had to own it the second I touched it at the store, so here it is! I heart you, cardigan.
Now can I just say, you guys? Benedict Cumberbatch is, if possible, in possession of the Best Voice Known to Mankind. Do I dare compare it to the voice of Alan Rickman? YES. INDEED I DO. I DO DARE. So if you've no idea what I'm on about, please direct your attention to exhibit A:
In which Bennie discusses Sherlock's relationship with John
; I wonder why I chose this clip? EVERYBODY GO WATCH SHERLOCK NOW. And do I really need to enlighten you all as to how Alan Rickman's voice sounds? I should hope not.
All right. That's enough babble for now. I must go eat food, and then see if I can sync up the audio of the
Sherlock
DVD commentary along with my
extremely legal
copies of the episodes. Serious business.
I swear I'm not meaning to show everyone cleavage in this last photo. I just liked how my hair looked... Greg will hate me!