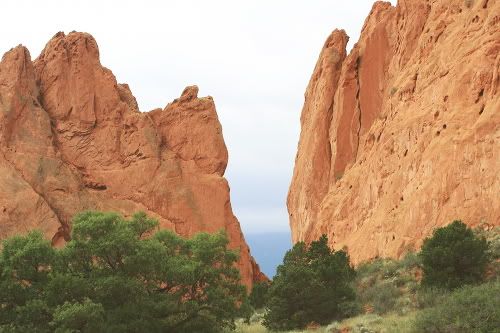 While in Colorado for the family reunion, my dad, his fiancee, and I went to the Garden of the Gods and Manitou Springs in an attempt to entertain ourselves away from the fam for a few hours. I really liked Manitou Springs; it's a tiny tourist town with weird shops and old-timey buildings, which always excites me! If you've ever been to Bigfork, Montana, it perfectly exemplifies my favorite kind of little touristy town. I'm also a fan of Victoria, BC for similar reasons, but it's not very tiny.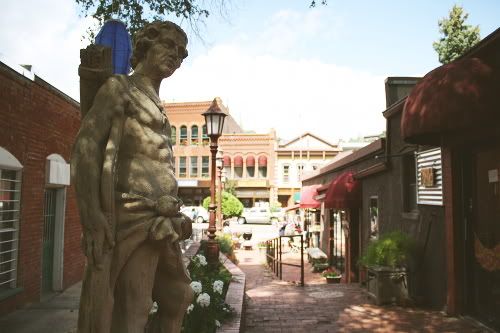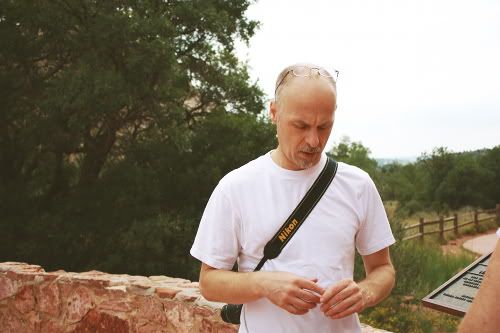 I don't have a ton to say today, as I haven't had my coffee yet and I'm constantly scatter-brained (and will be until I get to London, I imagine). Just wanted to show you these photos, mostly.
It was nice to get to finally meet my dad's fiancee, Pam. I was predisposed not to like her, but she meets with my reluctant approval. Is it one of those things that no matter what, you'll never be 100% okay with who your parents date/marry after they get divorced? Or am I just a petulant brat? Thank goodness my parents have good taste, or I'd be in a constant state of sulkiness in regards to their love lives. "You want to date
him
? Uuugh." That sort of thing. Have any of you, as adults, experienced a recent parental divorce? I'm still getting over my parents' divorce, and I'm curious to hear how others dealt with a similar situation. Three or four years later and I'm still sad about it. Maybe I need to just suck it up.
Okay sorry, no more downer talk! Pam is a great woman and I'm glad my dad has somebody to look after him. Now I'm going to scour the internet for
Doctor Who
.