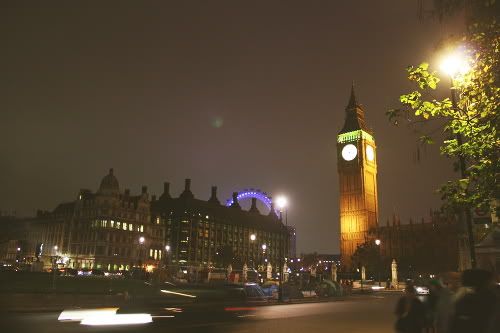 Are you tired of Big Ben photos yet? Better not be, 'cause have I got news for you! There are a few of them in this post.
A couple weekends ago Shaun and I went to the Lord Mayor's Show, which was basically a really long and excitingly British parade followed by fireworks over the Thames. It was super fun and dorky, and I took about a billion photos of the parade, some of which I will post here when I feel like sifting through all of them and picking out the good ones. After the fireworks we went to a pub Shaun had been to before and had many ciders and delicious veggie soup with bread and butter. Can I just say, the English have got the food thing down! You hear so many things in the States about how English food sucks, but they are wrong! English food
rules
. So there.
Anyway, on the way to the pub I took a few night shots, and then a couple hours later a nice heavy fog had settled over London. It was so beautiful, so I took a billion more photos. The Eye was particularly striking. I'll let the photos do the talking, though.