I've been trying to put off posting about this until I actually have internet at my new flat, but
by god
, I'm going to post about it now, in my fourth hour here at Starbucks near Piccadilly Circus! Yesterday I spent like five hours in the Starbucks near Angel Station in Islington, but it's so small in there that I was worried the staff would start to hate me since I was always in their line of vision, so now I'm literally hiding in a corner upstairs in this bigger Piccadilly one, surrounded by foreigners. It's exciting and exhausting. Anyway, why am I talking about Starbucks? THERE ARE BIGGER THINGS AFOOT.
So. Wednesday night. I'm sure most of you aren't massive crazy
Sherlock
fans, and for that, I'm sorry. Not really, but pretend. Okay I'm sorry that you haven't seen BBC's
Sherlock
, which you should, and do it now, because series 2 airs on January 1st 2012, New Year's Day. Best New Year's present
ever
. But you know what's an even better present, a life present, that makes your entire life a giant pile of amazing? Being able to attend the BFI screening of
Sherlock
series 2 episode 1, "A Scandal in Belgravia," with your favorite London fandom friend. Which I did. All thanks, may I add, to Shaun, who bought and paid for a BFI membership and then called the BFI box office immediately upon its opening on the morning they started selling tickets to the screening. Needless to say it sold out pretty quickly, but she got us tickets, and I am FOREVER GRATEFUL to her and I owe her my soul, basically. (Thanks also, Shaun, for the photos in this post!)
So I'm gonna tell you a bit about the glory that was Wednesday night at the BFI. When Shaun and I showed up, there were tons of people sort of hovering outside waiting to be let into the theater where they were screening the episode. We could tell immediately that many of these were fangirls, and probably also on tumblr, which is hilarious and awesome and also kind of disturbing all at once. I had to pee because I'd just chugged a really weak mulled wine from a Christmas market stall, so we went and did that, and on the way back toward the theater doors
we saw Moffat
. I mean, everyone appreciates Steven Moffat. EVERYONE. I said, "oh my god" under my breath to keep from screaming it, and we froze and stared as he swaggered past all business-like. It was terrifying and beautiful. Then we giggled a bunch and I think I either punched, poked, or pinched Shaun like a billion times that night in fits of fangirl awe. You would have too.
When we finally went into the theater and found our seats, we were on full alert for possible cast and crew sightings, and we weren't let down. Pretty soon Andrew Scott (who plays Moriarty) sat down about five rows in front of us, and I kept saying, "Is that Andrew Scott? Right there, right
there
, is that Andrew Scott?" Shaun said, "Where, where?" and then the guy sitting next to Shaun said, "Yeah that's Andrew Scott." So I'm glad our crazed mutterings were heard by all those around us. But it was Andrew Scott! We eventually saw Moffat and Gatiss, who the girls sitting behind us immediately saw as well, and then Lara Pulver (who plays Irene Adler and is devastatingly gorgeous), and at last Benedict, wearing silly utility pants(?) and a turtleneck sweater, which he removed almost immediately to reveal a grey polo. You all care about what he wore, you know you do. He was sitting in the same row as Andrew Scott, so if I craned my neck, I could see the back of his curly blonde head. (Wow this is the creepiest post I've ever made.)
There was an intro by some BFI or BBC people, whatever blah blah blah, and then... the episode began. I won't give away any spoilers, because Moffat would likely turn up in my room at night and murder me gruesomely, but I will just say that it was above and beyond anything I'd expected. It was
perfect
, really, and I am absolutely dying to see it again in January. A lot of people (including myself) were worried about how they'd handle Irene, but in my opinion they did such a deft job of it and stayed true to the characters and the original ACD stories. Well done Moftiss; we should never have doubted you!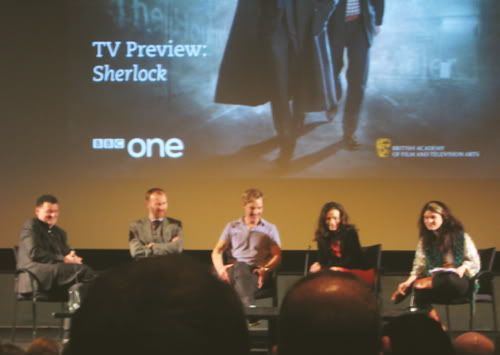 After the episode was a Q&A with Moffat, Gatiss, Benedict, and Lara, which was led by Caitlin Moran. It was pretty brief because another event was scheduled for the theater, but it was amazing to be there at all. Caitlin asked what everyone's favorite part in the episode was, and Mark Gatiss answered that his favorite bit was being there that night, seeing everyone's reactions to the episode and feeling really proud, etc. I thought that was great, and it brings a tear to my eye thinking of it (no seriously, it does).
Just being in the same room as so many of my heroes was overwhelming, and I think I was flushed and light-headed most of the night. I wish I could properly describe how incredible the night was. I kept saying to Shaun, "This is the best night of my fucking life!" Which is pretty much true.
After the screening I had to use the bathroom
again
, because my bladder is broken or something, so we ventured down to the restrooms, where we noticed a huge queue had gathered near what I presume was the green room or wherever the cast and crew were hiding. Shaun overheard that they were doing autographs, but Benedict would have to leave early because he had an interview, so would only be able to do a few before he left. We weren't sure what was going on beyond that, so we sort of stood to one side and then realized Mark Gatiss was making his way down the line, signing tickets and DVDs and stuff people had brought, as well as posing for photos. We were sort of overwhelmed and didn't really know what was happening, so we just watched in awe as he passed by and then realized we probably should have asked for a photo with him. Andrew Scott was coming next, and not to miss another opportunity, I said, "We're getting a photo with him!" so we got in line and when he came up, I asked for a photo and of course he obliged. He's ridiculously short and good-looking in person, I love him! So after that we naturally had to get a photo with everybody else.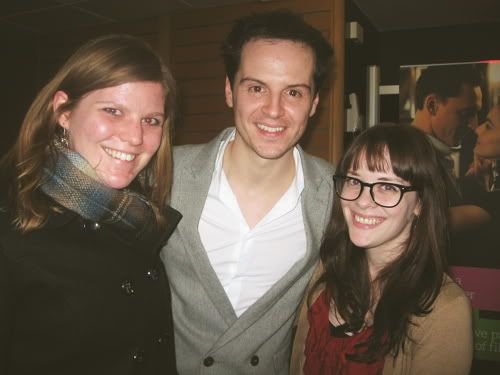 Lara was heart-stoppingly beautiful, I can't even. I told her I loved her hair, and totally put my hand around her waist! Aahhh! You guys, she is ridiculous, I have a huge crush on her, I can't even.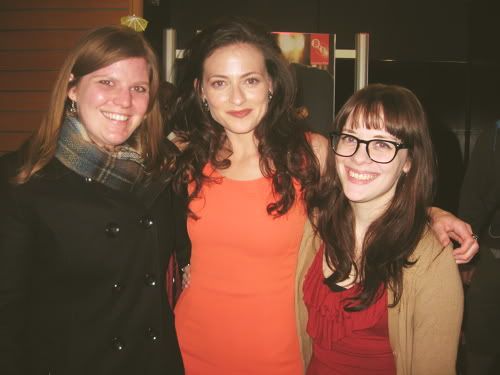 And then I told Moffat he was amazing, which he's probably heard about a billion times, but it had to be said! Resisted temptation to touch his curly head.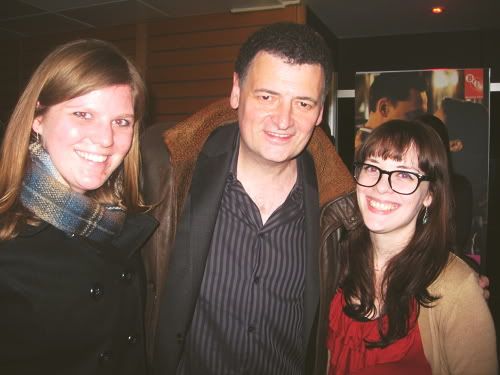 After Moffat left it was quiet for a while. The queue was still there, and everyone was presumably waiting for Benedict, but Shaun and I weren't sure if he was coming back or not. We waited for a long while, and then finally Anderson Cooper's British lookalike came to tell us that Benedict was doing an interview but he knew we were waiting, and he'd be back soon. We still didn't want to get our hopes up that he would make it through everyone though, and we didn't know if he'd agree to photos with people, but it turned out he made it through the entire line, and took photos with everybody who asked! He seemed quite tired, understandably, but the fact that he put in the time and effort to see his fans and be so pleasant to us was amazing. I wouldn't have blamed him if he didn't come back and see us, or if he just signed a few things and left, but he made time for everyone which meant so much to us! I'm really in awe of every cast and crew member who was there, because they were so great and clearly they appreciate their fans. It was just an overwhelmingly inspiring and wonderful night!
HOLY AMAZEBALLS YOU GUYS
I'm still on a bit of a high from Wednesday night, and I'm sure it'll last until "A Scandal in Belgravia" is finally released on the BBC. January 1st can't come soon enough! And if you're still unsure whether you should watch
Sherlock
, well stop being unsure and WATCH IT, because it's one of the best shows out there at the moment, and one of the best shows ever made
period
, and for godsake it's written by Moftiss. How can it
not
be good?