Oh man, sorry about the delay in posts. Kind of. Not really -- I've been rather busy going to engagement parties, moving couches, TV-hunting, and generally doing useful life things! So never mind about the sorry. But it is good to be making another blog post.
Today I felt I'd go a bit more masculine with the blazer and oxfords. I'm so in love with these shoes; they go with everything, and they make everything a bit more funky and fun and vintage-y. Which, in my opinion, is a good thing!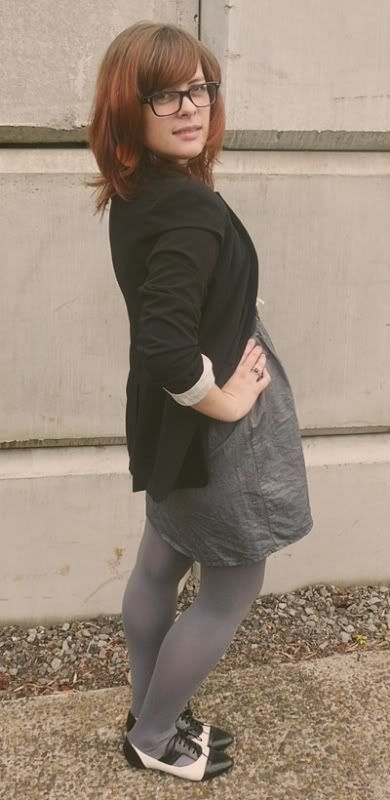 I'm wearing: Target dress, necklace, and blazer; Aldo shoes; gifted tights (from Greg); vintage watch (as a bracelet; it doesn't work! ha).
Today I had my first ever experience with wedding dress shopping! No, it wasn't for me, although I wouldn't mind trying on all of those flowy silk gowns. No, it was for a good friend, one of the best, and she found the absolute perfect gown for herself! I'm so happy for her -- she got a good deal, too. I can't resist good deals. Later I'm going to have to go through the rigamarole of trying on and picking out a bridesmaid dress, which I'm not sure will be super fun or super stressful... we'll see! For now, I'm gonna just stick to cheap Target dresses, thanks.