Promise I'll get back to your comments shortly! Meaning, right after I post this. (I do try to go back and reply to most comments if I have anything useful to say, and I know it's impossible to remember and nobody goes back to read replies, except maybe me,
but
I do reply to most comments if you are bored and want to see what I've said to you.)
ANYWAY, wanted to do a now rare outfit post. Didn't put much (if any?) effort into this. I did at first but somehow my camera ate the photos after I'd taken them and they disappeared from the memory card. Typical. Anyway I was like "UGH I guess I'll redo this then," and angrily drank my chai tea latte while doing so.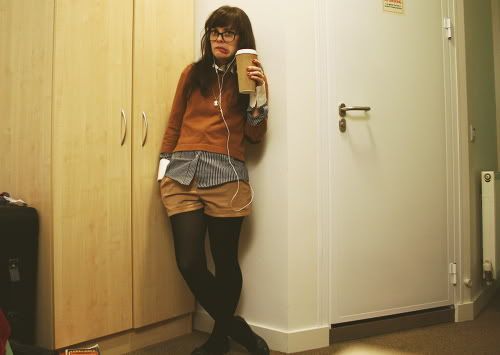 I'm wearing: H&M shorts and sweater, blouse from my dad (he got it in Kuwait so who the hell knows where), We Love Colors tights (the only tights I'll wear now), Blowfish shoes that you can't see.
In these photos I'm rocking out to "The Bike Song" by Mark Ronson & the Business Intl. Featuring some other vocal artists since Mark Ronson just produces, plays instruments, and stands around looking hot apparently.
Where did this blog post go? Not sure. I like how one day I'm super articulate and other days I'm like "I'M BORED WHY DON'T I RAMBLE ON THE BLOG FOR A WHILE." I really appreciate everybody who reads and comments, though. I truly do. The fact that people actually read my blog makes me want to cry happy tears for the rest of my life. Seriously.
In parting, have this embarrassing photo of me "dancing":