Behold my deadened, seemingly sightless eyes. I'm staring into the void because I didn't have a Dr Pepper immediately upon my return home from work. Instead I spent an hour and a half sitting on the bed, talking with Greg. One of the topics covered was, am I allowed to snog Benedict Cumberbatch if he chats me up in London (because this would
totally
happen). The answer is no, I am not. This is thoroughly disappointing, but at least I'm allowed to take pictures if I come across David Tennant snogging Matt Smith? Fair deal, Greg... fair deal.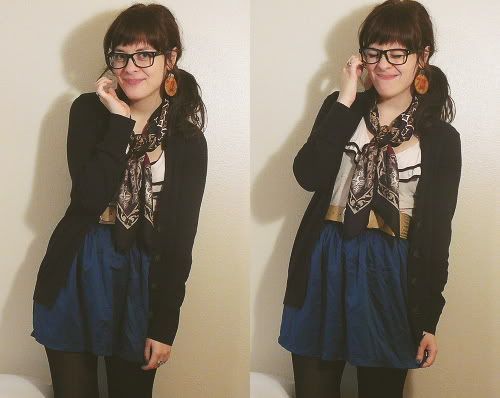 I'm wearing: F21 skirt and belt, H&M blouse, thrifted scarf, Old Navy cardigan.
Mmmm yeah look at my wrinkly skirt. You like those wrinkles? Yeah I bet you do. You
like
those wrinkles in my skirt. Aw yeah. Uh-huh.
...I don't know. I'm dead inside from lack of caffeine. Oh but I finished
A Matter of Magic
finally! It was adorable and fun and awesome, naturally, since Patricia C. Wrede is pretty much one of the best YA authors ever. I'm now trying to decide whether I should read
A Game of Thrones
by George R.R. Martin next, or
The House on Durrow Street
, which is the sequel to a book I read a last fall (
The Magicians and Mrs Quent
by Galen Beckett). I want to start
A Game of Thrones
, since I've heard so much about it, but I'm looking forward to the upcoming show on HBO and I'm worried that if I read the book first I'll nitpick the show and won't enjoy it as much. So, for sanity's sake, I may just read it once I'm done watching the show.
Bah! So many books. And I want to make a Powell's trip soon, too. I've been really enjoying
The Walking Dead
, and I'd love to read more graphic novels and comics while at work. Any recommendations? I've already read
Scott Pilgrim
, but that's about it in the way of comics. I'm such a geek failure.