I am in a GOOD MOOD today! There are just so many reasons why my life rules in general, especially today. Not only did I finish
The Walking Dead
volume 6, but I drank coffee at work and it didn't make me sick, I watched
The Mighty Boosh
and
Sherlock
while taking calls, and I found
this photo
of Patrick Wolf looking like an utter and
complete
BAMF.
And then there's the rough draft of a short story I wrote last night! Clearly, and I can't stress this to myself enough: writing fiction gives me an extreme high. Especially when it's characters I love. It's like revisiting old friends and finding that you get along with them just as swimmingly as the last time you saw them, which is an incredible feeling. I missed these characters and I plan to force myself to write about them regularly from now on!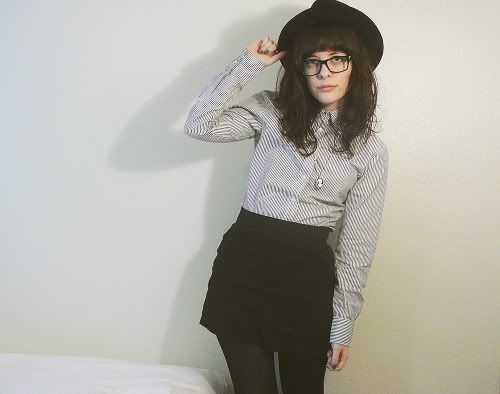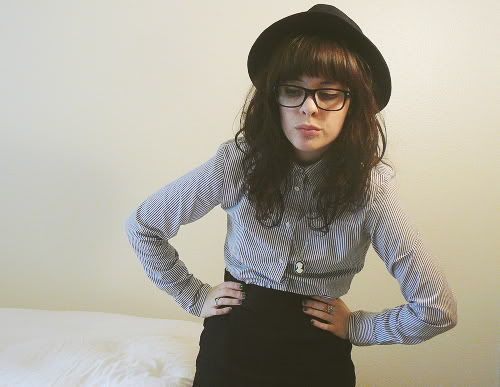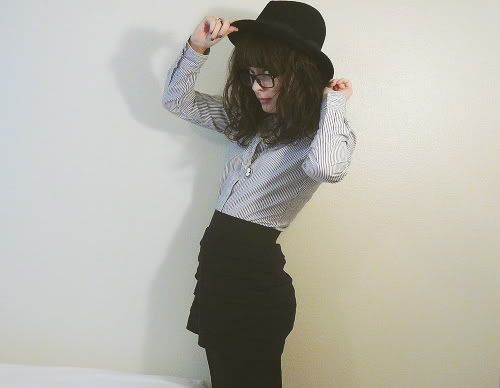 I'm wearing: Express skirt, Gap blouse, H&M hat and necklace.
I've decided I need to dress more like a writer from now on. How pretentious does that sound? But I don't
care
, I want tweed and grandpa sweaters and seasonally inappropriate scarves and elbow patches and bow ties and... and. What do writers wear, anyway, aside from my own personal conviction that as a writer I ought to dress like a hybrid of the Eleventh Doctor and Johnny Depp in
Secret Window
?
Take today's outfit, for example. Far too pulled-together to be writerly, I'd say. In this outfit I'd much rather be in the dingy bars of Portland's late 19th century, sipping gin and narrowly avoiding being Shanghai'd into slavery on some ship bound for the Orient. Although a struggle in the dark tunnels of the Portland Underground would be a stimulating adventure, all told.