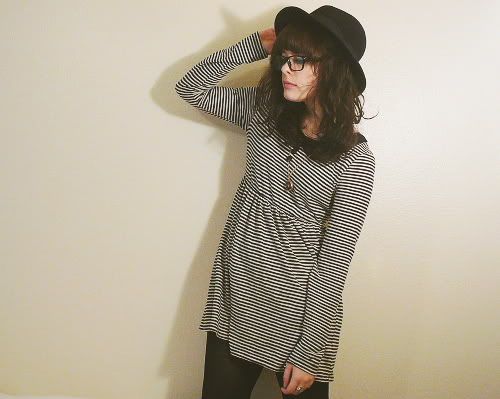 Welcome to Blogger Fail, population: me. Okay
okay
, I don't fail, but it has been decidedly
Too Long since I last updated here. I miss it! To be quite honest my outfits have been very lacking in the past week. As in, super super lacking. I can't even remember what I've been wearing because it's so dreadfully nondescript. Alas.
Remember that whole "I WANNA DRESS LIKE A WRITER DERP" post? Well that went out the window pretty fast. I've nothing in my closet that makes me want to get dressed, and nothing that inspires me, so I've just been wearing whatever. Which is awful because I never feel as confident when I'm wearing just whatever.
This is an outfit that I actually spruced up a bit when I came home because I'm a liar and a cheat. I was not wearing the socks or shoes or hat at work (so basically all of it). Also I could wear this hat every day.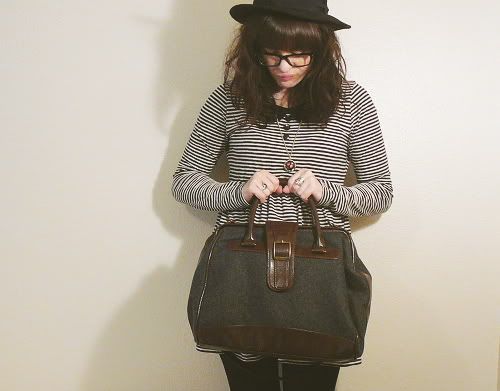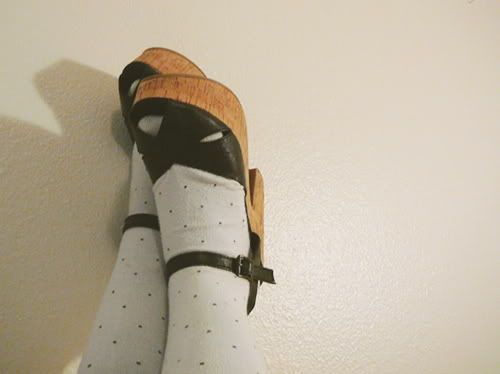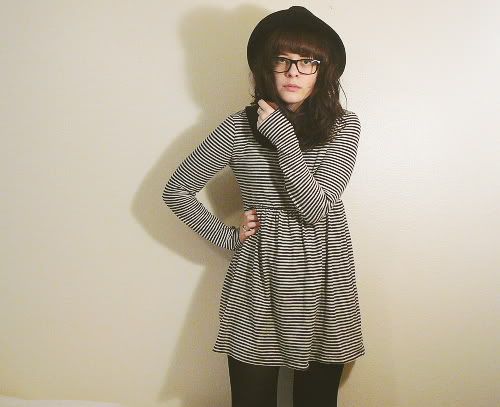 I'm wearing: F21 dress/tunic, H&M hat and necklace, UO bag, shoes c/o Blowfish.
I got a new bag! I'm very excited about it. I tend to bring a
lot
of stuff with me to work every day (i.e. my Macbook, books, DVDs, lunch, granola bars, my gloves, my giant wallet, Macbook charger, etc), and I was getting super annoyed with/bored of my old bag (a red backpack/bag from UO as well which I got years ago), so I got this one on sale. I LOVE IT. I love the vintage collegiate/doctor-y look of it. And obviously, I love everything having to do with doctors... or Doctors. (Doctor Watson and The Doctor, guys.)
Speaking of the Doctor, I've made an appointment with a work friend for us to get tattoos on April 30th! We're both getting TARDIS tattoos, how wretchedly geeky are we? The best part is that she had never seen
Doctor Who
until she met me, and once I learned she was super into British television, I made her watch and now she is as big a fangirl as me! A truly amazing accomplishment on my part, I must say. I've influenced somebody enough to get a freaking TARDIS tattoo. My work here on Earth is done.