Well it's payday
and
Friday, which means I am a happy Meg! A trip to H&M is decidedly in order, as I'm going through shopping withdrawal. Yes, shopping withdrawal. I haven't been shopping in a month! It hurts! And I'm super tired of all my clothes at the moment; mini skirts aren't doing it for me anymore. I want all midi and maxi, AD;ALKSDFJ! And a chocolate milkshake.
I'm deciding whether or not I want
these Nexi flats
by Blowfish. I write for Blowfish, so I may be biased, but I've never worn a pair of their shoes that wasn't super comfy and awesome. Still, not sure with these! I hate spending more than $30 on anything. Somebody talk me into it.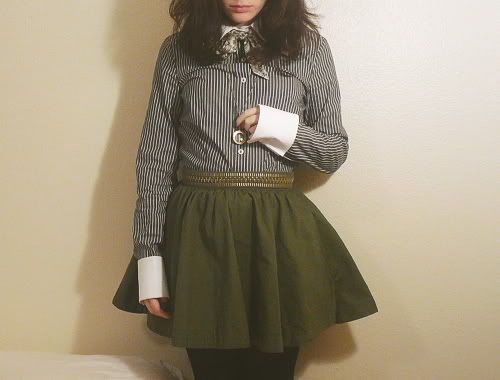 I'm wearing: H&M skirt, blouse from Dad, Gap bow tie thingy.
I don't like this outfit; it lacks color. I was super into neutrals for a while but now I want color. Frustrating.
Gotta get my ass in gear when it comes to writing. I have a story knocking about in my head and it's driving me crazy, because I feel like I haven't had time to write at all! My after-work hours yesterday and the day before were all spent recording and practicing with
Ninja Turtle Ninja Tiger
, and I've been so exhausted all week for no particular reason. I need to just force myself to sit down and write for little spurts. I hate doing that, though; I like to dedicate at
least
two hours of time to writing, because I get in the zone and hate stopping when I'm in the middle of a scene, but I may have to just suck it up and write in little chunks. Annoying.*
I started reading
A Game of Thrones
finally. I just couldn't wait for the next episode! Although at my current glacial pace it's doubtful that I'll get to where episode 1 ended before Sunday. I'm loving the book, though; another
thick
fantasy novel, just what I need! ♥
*
Sherlock:
Shut up.
Lestrade:
I didn't say anything!
Sherlock:
You were thinking; it's annoying.