Yesterday I busted out this dress for the first time since last fall. I forgot how much I like it! I thought I really disliked the sort of tribal print, but I find I actually quite like it. Not usually a fan of the tribal thing, though. It also has adorable puffed sleeves which you can't see in these photos (obvs), but which I love because they make my arms look less like grandma arms. I dunno.
Also rediscovering the inherent possibilities that go along with scarves! I only have one scarf, alas, but I want to buy more. I probably won't, however, because my funds ought to be going toward summer clothes and not cold weather things (even though summer doesn't really start in Portland until late July).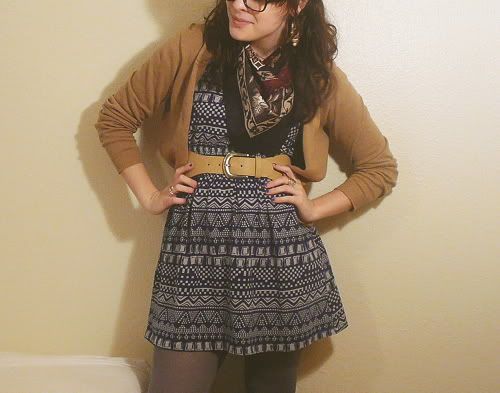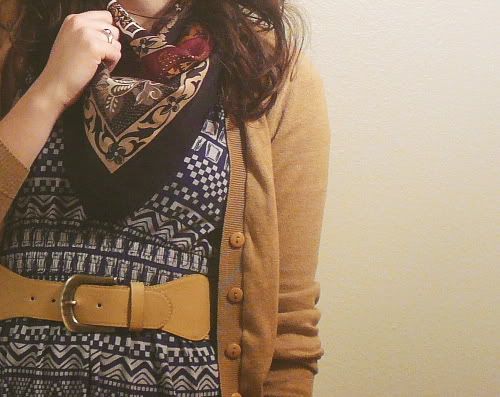 I'm wearing: F21 dress, belt, & earrings; UO cardi; and thrifted scarf.
I started watching
The Borgias
last night. I'm already hooked! I love period television shows because the possibilities for amazing costumes are
endless
, and the stories are always so expansive and dramatic. I adored
Rome
and I'm continually on the search for something similar. Incidentally
The Borgias
takes place in Rome, but during the Renaissance. I'd never really read up on the Borgia family before, but I did listen to a podcast on Lucrezia Borgia once, so I'm intrigued to watch the show and then do my own research to see how historically accurate it turns out to be. Not that I care; I'm not that big a stickler when it comes to historical accuracy unless it's in regard to costumes, but I'm super interested in history so it's more curiosity than anything. Accuracy to
books
is quite another matter, however...
Which brings me, of course, to
A Game of Thrones
! What an amazing adaptation. I'm reading the book as I watch the show, and I can't say enough what a great job they've done so far in translating the book to film. The dialogue is word for word most of the time, and while some of the casting choices are a bit questionable (though nothing as bad as Mel Gibson as Hamlet), I'm thoroughly impressed by the whole thing. Not to mention the story and characters are great so far! If you haven't already, watch this show.
Oh and
Doctor Who
, you guys... don't even get me started. I will give a full review after part two airs on Saturday, but seriously... I can't even
handle
how much I love this show.
So what dorky (or non-dorky) things are you guys obsessed with at the moment?