My fingers hurt. This is because I just busted out the ol' cello (fondly named Dorian Gray), and after 4 or so years of dormancy, my poor cello fingers are
extremely
frail and pathetic. After about 15 minutes of playing, my bow hand is all cramped due to holding the bow all wrong (to be fair I've never held my bow quite right), and my left hand is absolutely stinging from plonking around on those strings. Ow.
My most of me
.
The reason I'm forcing myself to play the cello again (not that I don't enjoy it, but look at me, I can barely type), is that a friend has asked me to record a cello part for his band this week. His cellist had to bail at the last second, and as I'm the only other cellist he knows, I get to take her place! I'm kind of excited about it, but also super nervous and frustrated because I used to be a middling to decent cellist, and now I'm like a high school freshman all over again. It's rather depressing, considering that of all the instruments I ever played, cello was by far the one I loved the most (and the one I was best at).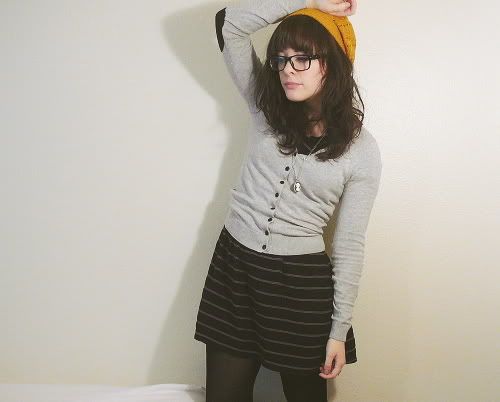 I'm wearing: F21 dress and hat, H&M cardi and necklace.
Maybe one of these days I'll take some photos of Dorian to show off all over the internets, and
maybe
even Isidore, who is admittedly much nicer to me after years of disuse (there are no difficult fingerings to remember!). Isidore is my harp. I was never very good at playing the harp, but it's a lot easier to just sort of pick up and dink around on and create a pleasing sound, whereas with a cello you have to know what you're doing to make it sound at all nice.