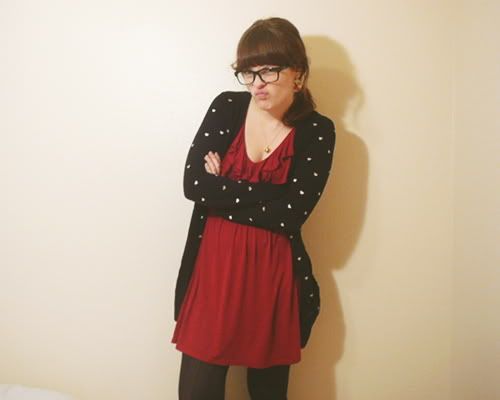 Here I am, excited about my 100th post, but also annoyed because none of my photos turned out well today! I blame this dress! It's a lot more clingy than I'd originally thought, so I need to get a slip for it. It makes my belly and hips a lot more defined than I would like in such a dress. Boo!
But YAY, it's my 100th post in this blog! I'm excited about it. I usually get excited about things worth celebrating, or at least worth mentioning as a milestone of some sort. I also hit 200 followers today as well, so it's a good day for blogland!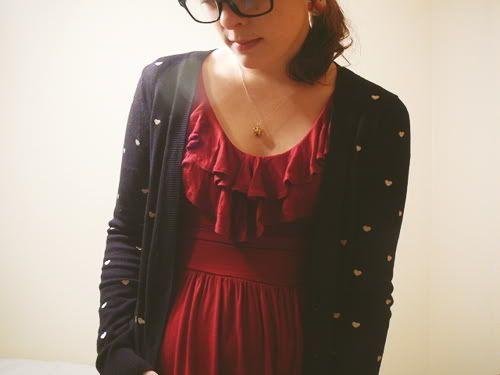 I'm wearing: F21 dress and cardi, teapot necklace from Mom, earrings from Rose.
While I am currently annoyed by this clingy-ass dress, I'm more than pleased with this new cardigan from F21. It's a semi-replacement of my other black cardi, which is getting a bit threadbare from so much use (or so I imagine). Anyway I had to get it due to the tiny hearts sewn all over it. Who can resist hearts! Not I.
This teapot necklace is another gift from my mom, who is a master twitter gifter! She sees me posting about things I like on twitter and then goes and buys them for me for Christmas. My mom's the best. Also the best: Rose, who got me these earrings for Christmas! They're awesome, and I'm going to wear them every day forever. ♥
Well this is kind of a let-down of a post considering it's my 100th post, but... what else can I say? I suppose I'll say something serious like, thank you all so much for your support on this blog. I started it in June thinking only my mom would ever read it, and now I have a super awesome group of friends I met through this thing, plus constant positive feedback and love. I can't express how much confidence this blog has given me, and how much fun it's been! Thank you all
so much
!
Now have a weird pose: