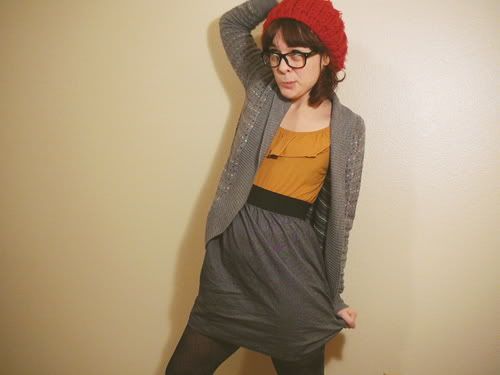 Holy shit, when I took these photos (like an hour ago), I hadn't showered in two days! Gross Town, population: me! Do I have the motivation to shower and get dressed again to take photos for my blog? No. Therefore you get greasy-haired pre-shower photos. Check it out.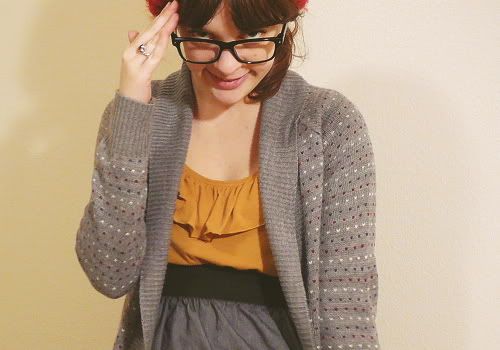 The "I have greasy hair, look at it" face.
So yeah. My life is full of balloons and confetti joy! Do you know why? I bought tickets for
this
! It's an HD broadcast of the
Frankenstein
play that Benedict Cumberbatch is going to be in with Johnny Lee Miller this coming April. Directed by Danny Boyle. I can't even. It's going to be uh-
may
-zing!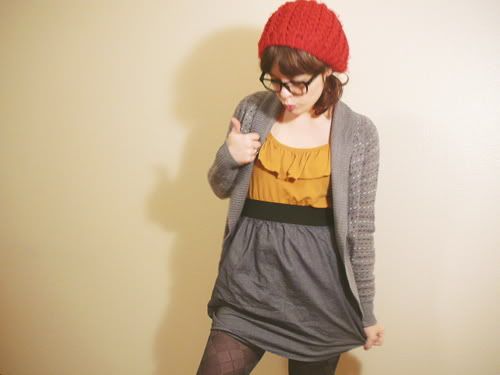 I'm wearing: Target dress and tights, F21 cardi and hat.
Well well well well. This dress. I don't think it's been in my blog since one of my very first posts, which I won't link here, because my hair was awful in it, but if you're super bored you may try to find it yourself. Anyhow, this dress fits oddly in the bottom and I don't think it really flatters my figure too well, but I love the mustard ruffled top! It makes up for the bottom part. Yay this dress. With the red hat it's like McDonald's colors. I will never eat fast food again, by the way. Last time I ate BK my bowels
wanted me to die
.
My calf is doing that thing where it's feeling all tight and twitchy, which means at some point it's going to charlie horse, and I'll roll around on the floor crying while Greg tries to calm me down. I hate charlie horses! They are The Worst.
This last picture is what happens when my camera decides to be on the 2 second timer instead of the 10 second timer, and goes off when I'm not expecting it. I go, "Wtf, camera!" and throw my hands up in exasperation.