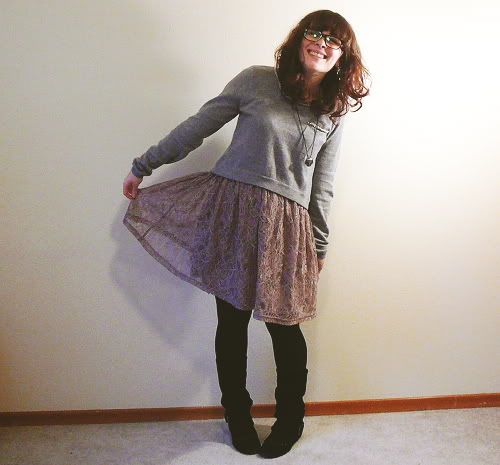 Oh baby. I brought a lamp into the room, and used it as a "spot light" or whatever. It ended up creating a high-contrast sort of effect, which I kind of like! I'm a fan of high contrast photos, although not as much as my dad, who is like... the crazy King of high contrast photography.
Anyhoo I wanted to show off this sweater, which is the last thing I got at H&M on Black Friday, and which I've already worn this week. I've been wanting to play with the cropped look for a while, and I figured a cropped sweater over a dress was a perfect way to play with that without showing my midriff and freezing to death. Also look at the cool chain trim! I love it!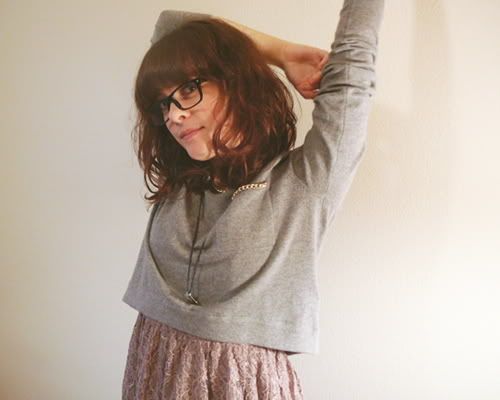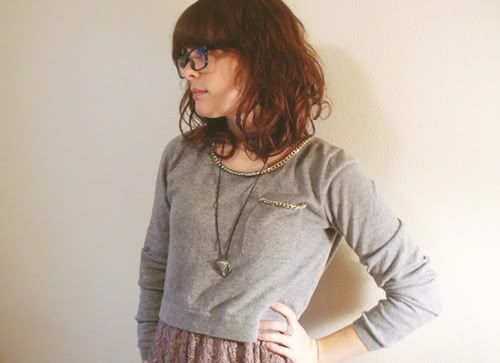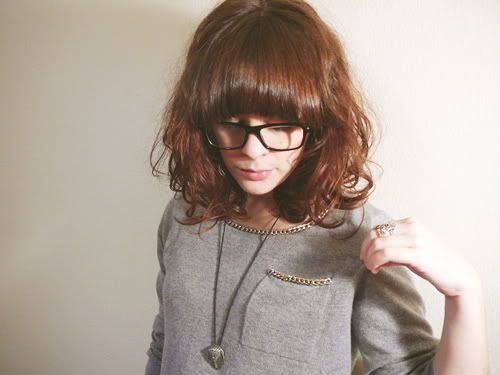 I'm wearing: H&M dress and sweater, Delia's boots.
I've been thinking about the post I've been meaning to do about body image. The more I think about it the more unlikely I am to actually write it, so I'll just get it out of my system right now. It's something I'm sure every single one of us gal bloggers has thought about, worried about, and brooded over. Can anybody seriously tell me they haven't at least
once
thought they were too chubby, or too skinny, or their legs were too short or their boobs too small or any other things that a woman can find "wrong" with her body? I doubt it. I know every one of the women I know has worried about this at one point or another.
The reason I think it's important to talk about this, or at least acknowledge it in a style blog setting, is because we post pictures of ourselves on our blogs. Every day. We pose, smile, and wear outfits that mean something to us. We put ourselves out there! Nobody can tell us any different -- we're fucking brave, and we deserve respect, because we're epic BAMFs for just taking the plunge into style blogging. Even so, we dwell on things that shouldn't matter -- does that pose make me look fat? Are white tights a bad idea for my thighs? Stupid thoughts. Thoughts we shouldn't think. (And I know you all think them!)
I struggle personally with my own body image every day. A year ago, I was just making the decision to join Weight Watchers and start losing the extra 40 pounds I'd put on over the previous few years. I was just barely overweight, but I felt like the ugliest creature ever to walk the earth. It was awful. It was truly the absolute worst. I hated myself, I did, and why? Because I wasn't a size 0 anymore. I wasn't this tiny, flat-chested teenager anymore, and I had fat rolls and curves and I hated it. Because all of these other bloggers were so tiny, I felt like a hack, and I quit blogging. And then I lost 30 pounds over the next six or seven months (after an ass-load of work, let me tell you).
When I hit my goal weight I was happy, but it didn't feel like I'd imagined. Instead of having the tiny, fit, sexy beach bod I'd been fantasizing about, I was still a little jiggly around the edges. I still had epic cellulite on my thighs and butt, I had flabby upper arms, a curvy butt, and a little pot belly. I wasn't satisfied. I wasn't skinny enough. I was actually 5 pounds smaller than my original Weight Watchers "goal weight," but I wanted to lose more.
I am still, often enough, not satisfied.
I'm still not satisfied
. How depressing is that? How stupid is that? I lost 30 pounds, I'm lower than my goal weight, and I still have many moments when I don't feel skinny enough. I don't feel sexy enough, or good enough. Which is ridiculous, because I am a normal weight, I lost the weight I wanted to lose, and yet it's never enough. That's the worst part of this awful plague on our culture: it's
never enough
.
I was looking at pictures of Lea Michele, who plays Rachel Berry on
Glee
. She lost like 15 pounds or something by going vegan, and at first I was like "omg she didn't even need to lose weight!" But the more I thought about it the more I was like, "Holy shit she looked great before, and if she wanted to lose even more weight, then there must be something wrong with how she looked, so there must be something wrong with the way I look, too. Maybe
I
should lose more weight and be 100 lbs too." Which is awful. It's poisonous. There's no, absolutely no reason to think that way. But I do, and I know a million other girls do too.
It's what we're conditioned to think. We're conditioned to
never feel good enough
. And I think, at the end of the day, what we need to realize is, we need to feel good about ourselves
as we are
. Whether or not we do something to change what we don't like about our bodies, we should love ourselves before the change and after. I wish I'd learned to love my body before I lost weight, because maybe then I'd be satisfied with my new body. I'd love it like it deserves to be loved.
It makes me so sad, because I read girls' blogs saying things like they need to lose weight, and I look at pictures of them and I think, "No! Darling, you look perfect!" but they'd never listen to me. They won't hear me, because they've internalized the need to be skinnier, to look like an actress or a model, or their favorite size 0 style blogger. And that's understandable. I wouldn't listen, either.
I guess I'm not trying to fix this, or come up with a solution or a cure. I just want to talk about it, to get it out in the open. I don't always feel great about my body. In fact I hate my upper arms, they're flabby and like old lady arms. I have a doughy pot belly. I wish my legs were longer. There I said it! It's ridiculous,
I know
, but there it is. I don't want validation, I'm not fishing for compliments. But I do want all my readers to feel confident here, to know that we are all insecure, we're all awkward in our own skin sometimes, and we all have things that make us feel not good enough. But we can bond together, and understand that it's okay, and maybe by acknowledging this, we can move on and begin to change the way we think, one step at a time. Or not. But it's nice to know we have each other.
I just want you to know, if you read this blog, or if I read your blog, or both, or neither, then you are a bad ass mother fucker. You rule. You are insanely sexy, you're beautiful, and I want to hug you and be your best friend. Life is too short to spend it hiding, worrying, and feeling shitty. Let's be excellent to each other. And party on, dudes!