Well, a bird pooped on my windshield today. Oh yeah, bird? Well fuck you too!
My eyes are freaking out once again, which clearly means I need to get off my ass and actually buy some new glasses. But glasses are so expensive... whine, moan, grumble. I seriously may just buy some cheapo frames at UO and get Lenscrafters to put prescription lenses in them. I mean they'd probably be higher quality than my current glasses, anyway.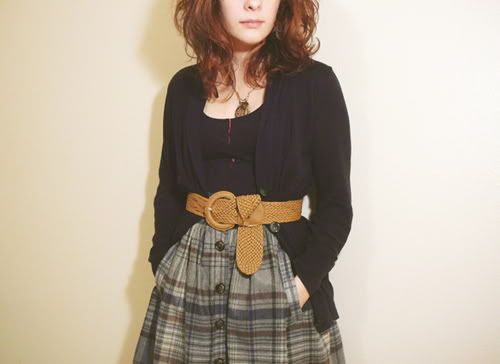 I'm wearing: H&M top (from years ago in Germany), French Connection skirt (via Buffalo Exchange), Target cardi, Wet Seal belt.
I'm listening to a Christmas album my parents and I used to love back when I was a kid. It reminds me of my childhood, which makes me happy and a bit melancholy. Christmas has always been my favorite time of year, and some of my favorite music is Christmas music. I'm not a huge fan of the newer stuff, all of that pop Christmas music is stupid (except the Paul McCartney one, that one rules). I'm more into traditional carols, sleigh bells, harps, flutes, wassailing, all that. Apparently this album is Romanian, as it has a bunch of Romanian carols on it that have become tradition to me. "Patapan," anyone? Such a great Christmas song that often gets overlooked (although it is French, not Romanian).
When I was learning how to play the harp, it was nearing Christmas time and my teacher said something about Christmas music being some of the most beautiful music ever written. It truly is. The great majority of the songs I know on my harp are Christmas carols.
I really wish I had my harp with me in Portland; I've been hankering to do some recording. Long ago I did a cover of Jethro Tull's "Fires at Midnight," but it was pretty bad and I'm an awful singer. However it was a fun experiment, and I'd like to try it again.
Feeling kind of nostalgic and melancholy at the moment. It's this music! Not that it's a bad feeling. As Sally Sparrow said in the episode "Blink" of
Doctor Who
, feeling sad is "happy for deep people."