O HAI THAR. What have I become? I haven't updated my blog in a week. I feel like an epic failure of a blogger. It's not to say I haven't been busy, though. Busy socializing, apparently, which is weird for me since usually I'm such a hermit. I've been going out to lunch at work a lot, and then my entire weekend was pretty much spent recovering from my Friday night escapades. Blogging is hard when your brain won't work, let alone you can't get out of your PJs in order to look good for photos. Nope, the couch was my best friend on Saturday, and then Sunday was spent trekking through Washington Square Mall with
Ashleigh
, buying too many clothes and a pretzel to boot. After that I was much too exhausted to do anything but sit on my ass.
And then all of a sudden it was Valentine's Day! Or Venereal Disease (VD), if you want to call it that. I kind of do. I had an awesome evening with Greg, in which we made beef stroganoff and then pigged out while watching
Reign of Fire
streaming on Netflix. I will never stop being amazed and overjoyed by the glory that is Netflix instant watch.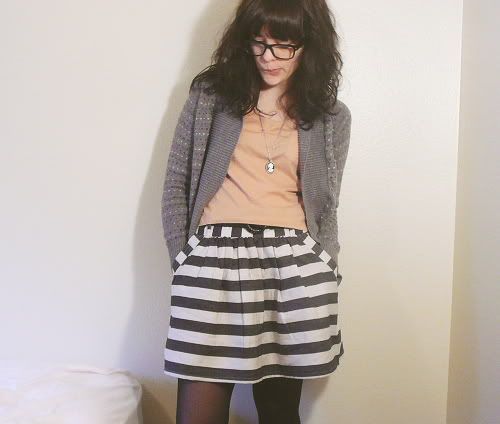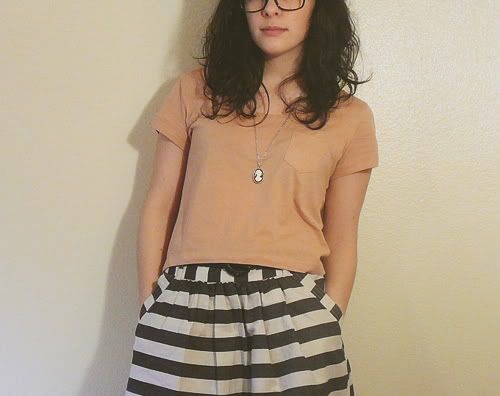 I'm wearing: F21 skirt and sweater, H&M t-shirt and necklace.
Apparently I dyed my hair! Yes, yes I did. I've actually had the box of hair dye lying around for
months
now, probably about six months, but I am obviously too lazy to do anything until the last second, so I dyed my hair on Sunday. I love it. It's the same color I dyed it back in June, but I like it a lot more now than I did then. It makes me look so pale, which for some reason appeals to me greatly.
I've also scheduled haircuts for Greg and myself at the same time on Saturday morning, and I'm super excited! I'm not going to get mine cut any shorter than it is, just a tiny trim and then lots of layers/texture. I want my hair to be as floofy as physically and humanly possible.
I'm trying to come up with a cute, low-maintenance haircut for Greg to get. I really want him to do something other than the basic really-short-all-over thing, which he always gets. I've been browsing Lookbook for ideas, but he says they're all too "emo" whatever that means, so I'm curious -- how do your boyfriends and boy friends get their hair cut? What's a cool way I can request to have Greg's hair done so he looks like a sexy modern geek man? Also he never styles his hair. HELP? I'm lost on this one.
Anyhow, tomorrow I'll be posting my outfit from Venereal Disease. I liked it lots. You will too! I hope.
Also, please continue to send good vibes, thoughts, and prayers my way for grad school. I've submitted all of my applications and it's only a matter of waiting now. London!