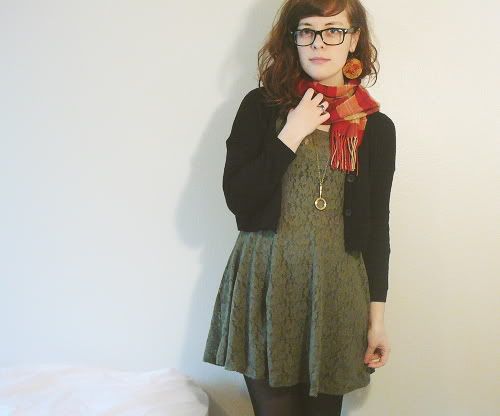 This silly scarf! I've been meaning to wear it in many an outfit post before this, as I wear it every morning to work, but by the time I'm home the scarf is ensconced somewhere in the vortex of my giant vagina-purse (ask Greg about that one), and I've thoroughly forgotten about it. Anyway, today this dress was
begging
to be Christmas-ified with a red plaid scarf. When I tried to tell the dress it wasn't Christmastime anymore, however, it wouldn't listen and in a fit of rebellion spilled coffee grounds all over the floor. Luckily it spilled them in the kitchen, so I was able to clean up quickly, but the dress won't be getting its way so easily in the future. YOU HEAR THAT DRESS? No more "Christmassy" looks for you. [Disclaimer: the dress did not actually spill coffee grounds. Nobody did. I made it up. I'm not actually schizophrenic or something.
Or am I
...]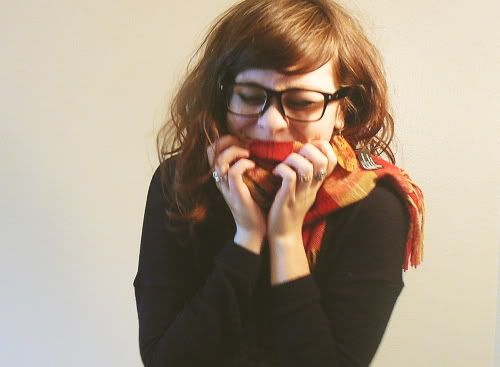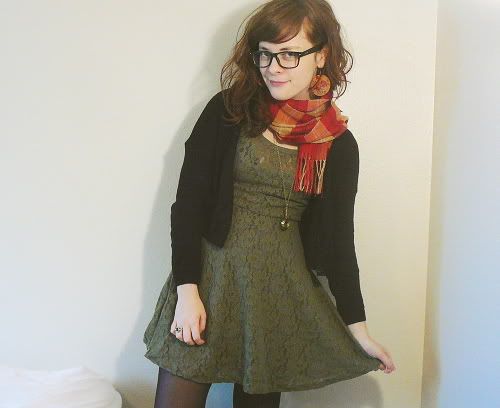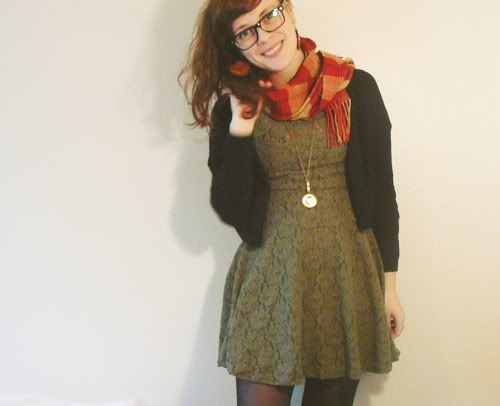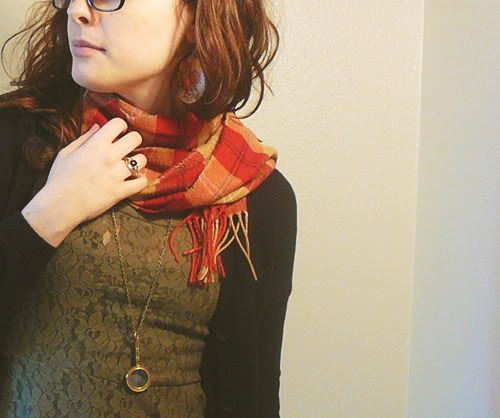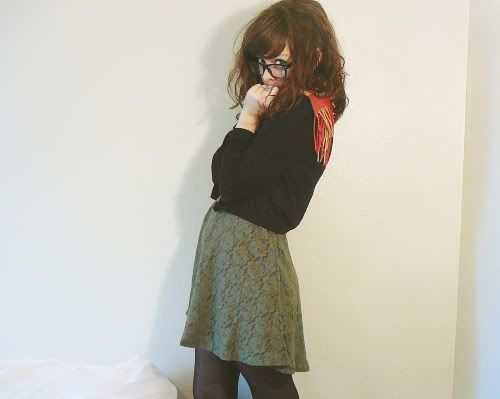 I'm wearing: Target dress and scarf, necklace from Mom, H&M cardigan, F21 earrings.
Last night I watched the first two episodes of
Sherlock
while working on grad school application stuff and dicking around on the internet. I don't even want to count how many times I've seen it. It's kind of ridiculous, but it doesn't get old for me! And I like to just have it as background ambiance. There are many movies I like to have on as background ambiance.
A Knight's Tale
is an old favorite, especially with the commentary on. I think I know the commentary better than I know the movie itself.
Pride & Prejudice
is a regular standby, as is
Emma
. Gotta love those Jane Austen adaptations. What movies can you watch over and over and over without wanting to pop your eyes out with a spoon?
So I am going to have to wait until February 22nd to get an iPhone, but that's okay, because I'm an adult and I can wait patiently for awesome things. ...No, that's a lie, I can't wait for things and I am
dying
of impatience. Want iPhone Now! WANT iPHONE NOW (even in capslock, the "i" must be lowercase!).
Well well well well. The next movie on our Netflix queue is
Get Him to the Greek
, which I thought was about frat houses until a few days ago. It's a pleasant surprise to be wrong in this case. I can't think of another case when it would be pleasant to be wrong, however. Being right is kind of my thing.
What is next in your Netflix queue? Anything badass I should check out on instant watch? Wait I take that back -- I'm meant to be watching
Gavin and Stacey
next. So I guess don't recommend anything or I will NEVER WATCH IT.