So I have a question for you guys. If I were to start a blog shop, one of those "shop my closet" things, would it be an awesome thing, or a kind of
omg why is she jumping on the bandwagon
thing? I love it when bloggers open little shops, but you never know, so I figure some feedback would be good. I really need to get rid of a lot of the clothes I no longer wear, so I figure I could offer them up for cheapo to you guys. Thoughts?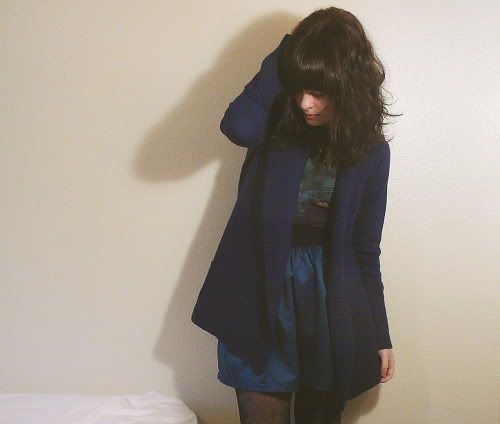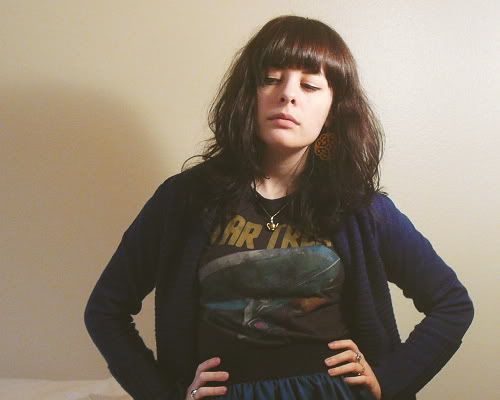 I'm wearing: F21 skirt, Heather's sweater, Hot Topic t-shirt, necklace and earrings from Mom.
I dressed like a total frump on Monday. I wasn't going to even post these, but I feel like a blogging slacker, so I am going to anyway. The only thing I could think when looking at these was "omg I need to learn about makeup."
Seriously
. I mean, not crazy makeup with bronzer and fifty layers of foundation, but at least... something to make me look like I didn't just wake up from a thousand-year sleep in my sarcophagus. Or something to make me look not twelve. My glasses do a lovely job of hiding my ineptitude, but sometimes I just don't want to wear them in photos, and then what?
I watched
The Social Network
with Greg a few days ago. It turned out to be pretty awesome! I never thought a movie about Facebook could be so intriguing. Have you guys seen it? What did you think?