As I was driving away from the Smart Park today, gazing lustfully at the H&M display windows, I realized: I am living the Dream. Yes, the Dream with a capital D. Here I am, in a city I love, having pints with a friend I love, eating mac & cheese that I love, driving home to a boyfriend I love, to get all comfy in an apartment I love, all while
supporting myself
and I did it
all on my own
. I am a Goddess.
Okay, that's not to say I didn't get help, because I did. I couldn't have done it without my parents, my friends, and most of all Greg, who is as always my greatest supporter and best friend. But seriously, guys. I moved to Portland. I now live in a city that has more than one Thai restaurant (there are five billion in the Hawthorne district in fact, look it up), an H&M, tall buildings, 28 breweries, my two best friends, and fucking
awesome
weather (aside from the lack of snow). And I did it all myself. And I have a job I actually
like
, and it's all thanks to ME! I'm applying for grad schools, and it's because I FELT LIKE IT. I am... truly... amazing.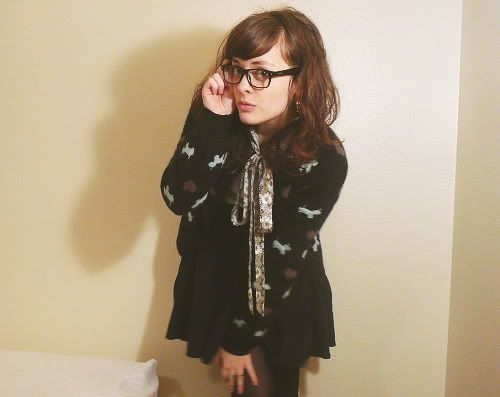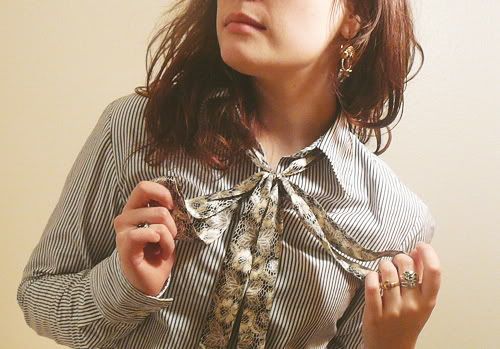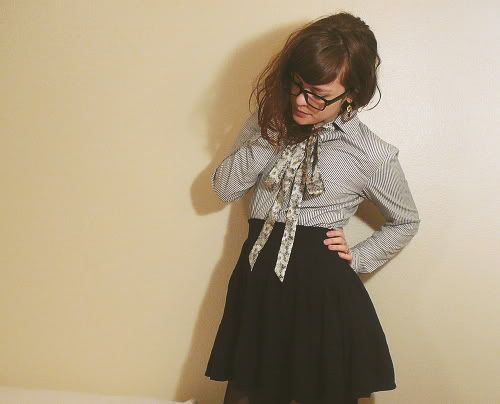 I'm wearing: Gap blouse and bow tie, Old Navy skirt, Alyssa's sweater.
We can all be Goddesses. Let's not be held back by what we
think
we can do, nor by what we think we
should
do. Do what you want! Achieve what you want. Don't let the "should" and "shouldn't" and "couldn't" and "wouldn't" get in the way. I'm serious. I've also had a pint on very little food, but I'm still serious. I told myself I couldn't and shouldn't apply for schools in London because I was "settling down" and I didn't want to leave Greg behind, etc., etc. But Greg made me realize: I
can
. There's nothing holding me back but the mindset that I should be doing a certain thing at a certain time. IT'S NOT TRUE. Do whatever the HELL you want, you crazy bastards!
And thus, what I wanted to do today was to wear a girl's version of a bow tie. So I did. I knew this weird scarf/headband/belt/tie from the Gap would come in handy one day! Bow ties, as you all know, are very...
very
cool.