I feel like a trillion bucks in this outfit. I've been "dressing up" more than usual lately, and my mood reflects the change. Bow ties, ascot blouses, girly skirts and heels are something I usually do only once in a while, but I'm feeling the need to be a dandy every day. Can you blame me? With spring in the air I want to frolic in an English village and drink tea and play my harp in the garden. I love spring so much -- it's my favorite season, and it seems to really have a heyday here in Portland. In Montana it seems like winter rolls directly into summer, and we never have much in between. But in Portland it's green, and rainy, and there are trees with blossoms and finches in the hedges outside my window. Total light jacket weather. I love it!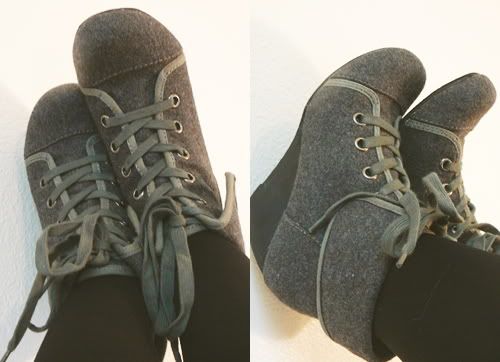 I'm wearing: Gee's blouse, F21 skirt, H&M cardi and necklace, Aldo shoes.
Yes, another new skirt! This one has hearts on! I love heart prints, I can't lie. I
love
heart prints. The subdued color of this skirt is perfect to me, because it has an exciting heart print, but it's not too girly or juvenile so I can still feel stately. Although to be honest I don't think I've ever once felt stately in my life.
I'm also wearing these shoes for the first time ever. They are SO GOOD. I ordered them on sale from Aldo, and holy crappity, they're the perfect wedge booties. They make me think of Robin Hood, for one; and then they've got this wedge that's not too high or too low, perfect for walking in. And the sole is weirdly soft so they don't click when I walk. Which I love! I like stealthing up on people like a rogue and then pickpocketing them... Well I would if I were a Night Elf rogue, just sayin'. Overall these shoes pass the Meg Test, and I will be wearing them much in the future!
Now I'm going to go grocery shopping with Greg, my amazing househusband, who has offered to cook whatever meals I want if I buy the ingredients. Sounds like a
pretty
good deal to me, not gonna lie! So let's DO THIS.