This outfit is from yesterday, and I meant to write this post earlier today, but I got an awful migraine halfway through the day and could barely focus on my job, let alone a blog post. This headache was partially due to a fraudulent charge that I found on my bank statement and the fact that I had to close my debit card, and partially due to a whole pile of other stress in my life that would be boring to go on about. Then I returned home to a notice that my ModCloth package had arrived but they didn't receive a signature, so they didn't leave it by the door like the other two packages that I received today. So that was super lame, and I'll have to wait 'til tomorrow to get my new things. Sigh.
I know, I'm a complete downer! But sometimes life is just too much. I'm worried I'll make myself sick just dwelling on everything. Too many things to think about!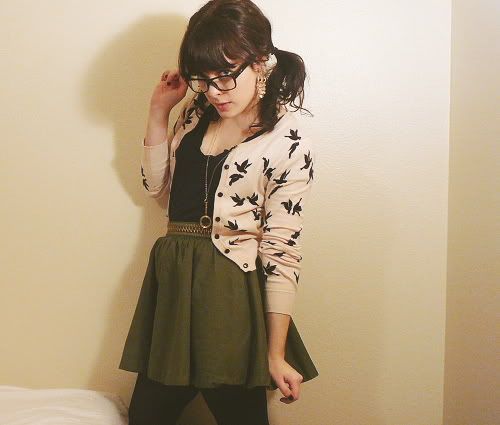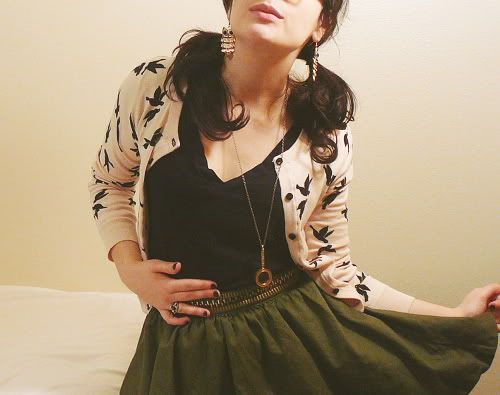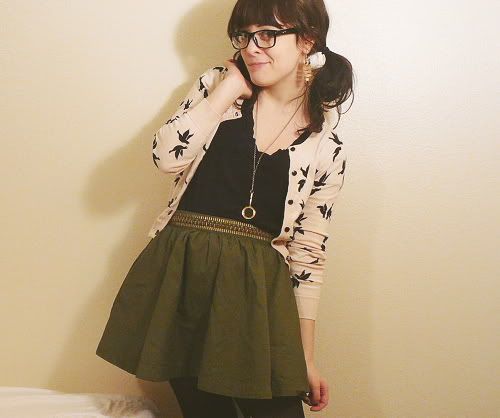 I'm wearing: H&M skirt and cardi, Target t-shirt, F21 earrings, necklace from Mom.
I'm the Queen of wearing things multiple times, apparently. I feel like all I ever wear is this skirt! I really like it, though. The green is great because it acts like a neutral, but it has this really cool gold beaded waistband that makes it exciting. I dunno. I like it! I pretty much just threw this outfit together at the last second but it turned out well I think.
Tonight Greg and I are driving to the Powell's bookstore in Beaverton for a
Patrick Rothfuss
signing! His new book
The Wise Man's Fear
(second in a series after
The Name of the Wind
) came out yesterday, and I cannot wait to start reading it. It'll be super amazing to meet the author in person and get a signed copy! I've never met any of my favorite authors before, so it'll be a fun new experience. Debating whether I want to try to get a photo with him, though... I totally would but my camera is problematic and I'm worried I'll embarrass myself! Bah.
I can't wait for the weekend. I have so many things I need to get done! If you've bought anything from my shop, please be patient -- I may not be able to mail the packages until tomorrow. I have them all ready to go, but Life, it happens, and I seriously don't know if I can even make it to the post office before the signing tonight. Tomorrow, at the latest!
Okay well this has been a bit of a downer post, but guess what movie comes from Netflix tomorrow?
Doom
!