You're not the first lot to have come here. Oh, there have been
so
many. And what you have to ask yourself is... what happened to them? Hello. I'm the Doctor. Basically... run.
- The Doctor ("The Eleventh Hour")
The way I see it, every life is a pile of good things and bad things. The good things don't always soften the bad things, but vice versa the bad things don't always spoil the good things and make them unimportant. And we definitely added to his pile of good things.
- The Doctor ("Vincent and the Doctor")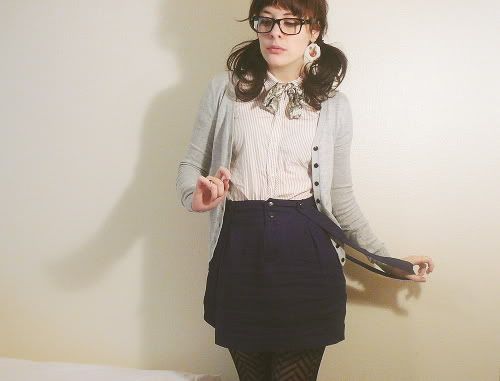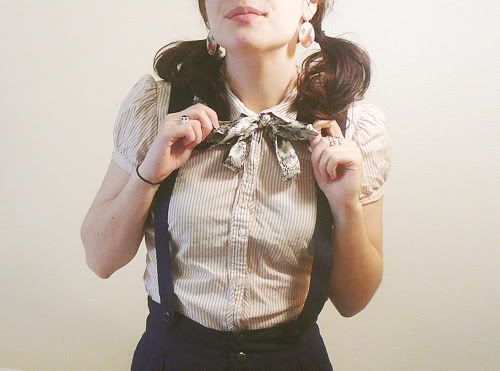 I'm wearing: F21 skirt, Gap blouse and "bow tie", H&M cardi, Target tights, Aldo shoes.
So today I ever so intentionally dressed like the
Eleventh Doctor
. Or as close as I could get, anyway. I bought this skirt with built-in suspenders last week, and then I saw a picture of an
amazing
cosplay of Eleven the other day, and a lightbulb went off. Sadly I was unable to figure out how to tie my real bow tie (
again
), so I made do with this silly silk tie thingy that I bought at Gap a century ago. I think it makes the whole thing more feminine and less costume-y, although I feel pretty costume-y anyway. Which is a good thing.
Let me tell you a little bit about how amazing the Doctor is. He is absolutely
completely
amazing. Imagine the oldest, wisest, kindest and most empathetic person ever. Now imagine the silliest, most ridiculous, all-over-the-place, excitable, curious, and ingenious person ever. Take that, plus 900-some years of being a Time Lord and a blue box called the TARDIS, and you have the Doctor. Sort of. He's more than that, of course -- he's the
Doctor
.
I feel silly trying to put it into words, but
Doctor Who
has been one of the greatest sources of joy in my life since I first started watching the new series back in 2007. That sounds sad, and maybe it is, but the Doctor helped get me through a very hard breakup, and has been a comfort to me many times since. There are very few shows, movies, or books now that can evoke such emotion in me as this show.
Doctor Who
reminds me that there is still magic in the world, there is still magic in
me
, and that I should hold onto that magic because it's starting to disappear more and more as I grow up.
Perhaps it's juvenile to connect myself so emotionally to a family television show about a time-traveling alien, but it truly does mean something to me. It means more to me than I could ever say in a blog post.
And yes, my first tattoo is going to be a TARDIS. U jelly? And for anybody who has no idea what on
earth
I'm going on about:
And of course, this part:
Yes, yes they are, Doctor. Yes they are.