All I can think about right now is
The Walking Dead
. One of my coworkers has been lending out his copies of the graphic novel and we're passing them around like crack. Usually I have a hard time reading comics or manga, unless they're in short strip form -- there's something about the combination of text and illustration that makes my eyes want to be everywhere at once and I can't follow it properly -- but I'm completely addicted to this series. The zombie thing is done to death, but
The Walking Dead
focuses more on human interaction than zombie-slaying, although there's plenty of that. Actually I think the characters are pretty much the most irrational, insane, emotionally-driven pile of fail ever, but they enthrall me. All I can think is, "What's gonna happen next? What crazy batshit stupid thing will they do next?!" You know you have a good story on your hands when that's the case.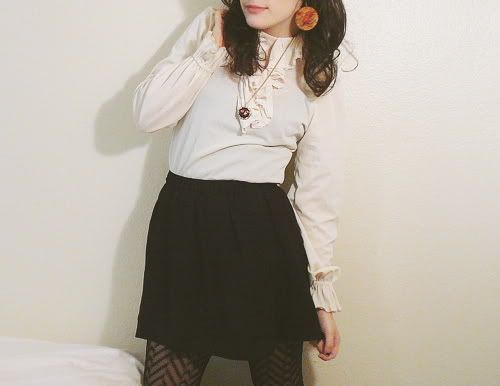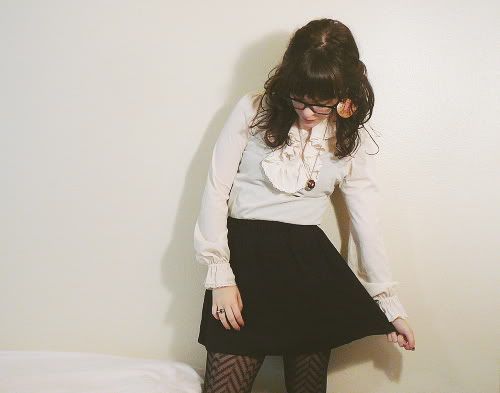 I'm wearing: vintage blouse, F21 skirt and earrings, Target tights.
I've been thinking a lot about the Zombie Apocalypse now, naturally. I think the Apocalypse is a fascinating topic enough already, but add zombies to the mix... well, it's a recipe for super interesting. I have so many thoughts, ideas, and questions about a hypothetical zombie plague.
For instance, do you think the President would probably survive that shit? Unless he was the very first zombie, I'm willing to bet he'd be immediately flown out of there and holed up in a mountain somewhere with his family and secret service. I wonder what he'd do in his stronghold? Try to come up with a way to get rid of the zombies, or simply wait it out? You know he and other super important people would get out before the zombies completely overran the civilized world, so I wonder if they'd still be in communication.
Also I'd like to think I wouldn't be like one of those people who stops to rest right by a darkened hallway, or freaks out and is like, "Greg's still in there! That zombie could still have his soul inside,
waiting to get out
!" I'd just chop his zombie head off. There's no time for emotional nonsense in the Zombie Apocalypse.
Where would I go, though? I'd probably try to find a boat and live in that, to be honest. I'd just drift down the Willamette and then find my way to the ocean and go fishing. Zombies can't swim, I'm assuming, so Greg and I could just live on a little boat and get super tan and good at fishing.
I had other cool questions about the Zombie Apocalypse but I can't remember them. What would you guys do if a zombie plague erupted? What questions would you ask, aside from "why the hell are there suddenly zombies everywhere"?