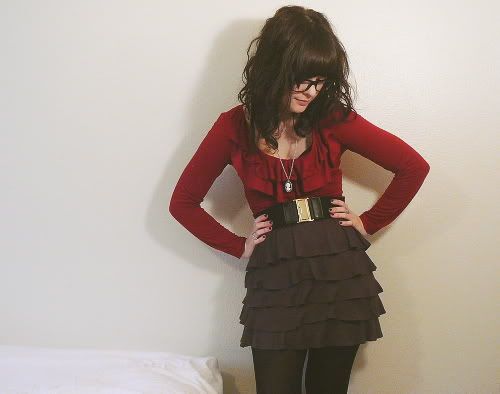 Today it's ruffle mania, seemingly! Check out my sweet ruffles. I'll ruffle all up in yo grill. I'm a ruffle
master
. Yeah I totally love my outfit today! It's all ruffle-y! And it has red. Red is my favorite color but there's not enough of it in my wardrobe, and after all of your sweet comments on my last outfit post, I think it's high time I remedied that! I have a billion red accessories (hat, bag, scarf, blazer, shoes, belt), but only 2 red dresses and a red skirt. A travesty that must be set to rights.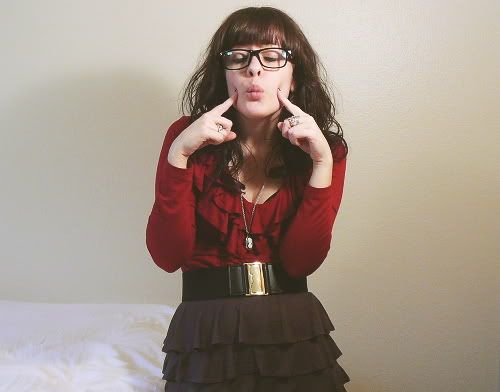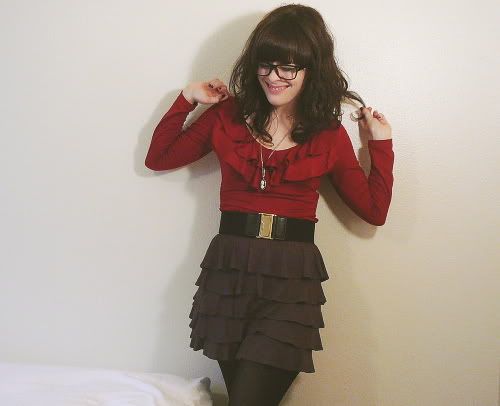 I'm wearing: Heather's skirt, F21 belt and dress worn as top, H&M necklace.
Today has been a week of paradoxes. Not only have I been rereading the delectable
Paradox Series
(
Sherlock
fic aw yeah), but this week has seemed to crawl past, whereas the hours in the day go by quickly. It's like, "Holy crap it's already 3:00?" and then, "Aw naw it's only
Wednesday
?" in the same breath. I don't get it, and therefore I am frustrated with it. Damn you, time, why must you torment me so?
Greg's going out of town for the weekend starting tomorrow, and therefore I have a bunch of activities planned to entertain myself while he's gone. Tomorrow I'm watching
Bridget Jones' Diary
(Colin Firth!), and then all weekend I'm going to be social, it's
crazy
! I'm kind of excited, though. I may actually do some cleaning as well. Truly a weekend of paradoxes. I never clean.
I also hope you kids enjoyed that picture of Matt Smith as the Doctor in my last post. I sure did. Bow ties are
cool
.