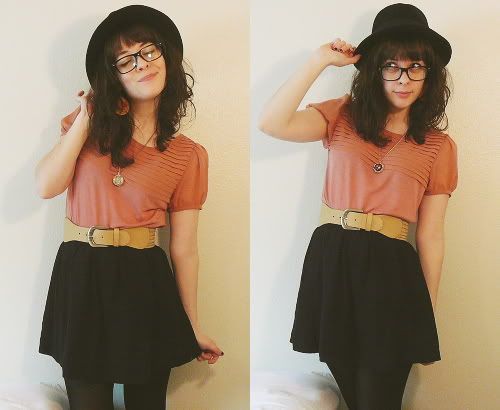 Well hello, blog! It feels as though it's been a century since I properly updated here, and it may as well have been. So much has happened! Okay... not
a lot
has happened, but enough that I actually have something to write about here.
Firstly, I just started writing over at the
Blowfish Shoes B.Log
, and you can read my first post
here
! I'm super excited about the whole thing, and I'm brimming with ideas (although none of them fully formed -- I need to sit down and have an ol' brainstorm with myself).
Secondly, I've posted more things in my
Bloggity Shoppidy Doo Dah
, as I've just decided to call it (though informally and only when in the right mood). There are a few dresses and skirts up, including a really cool vintage dress that I think somebody should buy and style up, because it's neat and it's too big for me otherwise I would. Anyway, go buy stuff because I have a shopping habit that needs feeding. MAY AS WELL BE FRANK.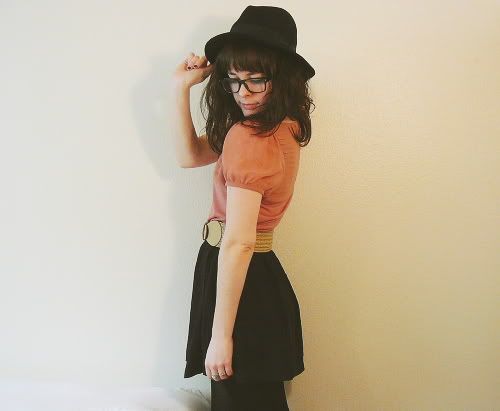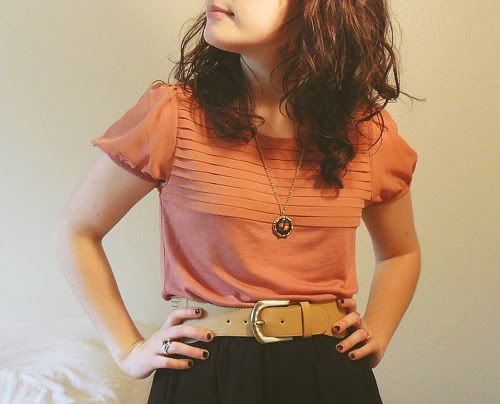 I'm wearing: F21 skirt, top, and belt; H&M necklace and hat.
Thirdly, I BOUGHT A LOT OF STUFF YESTERDAY. As in... way too much stuff. Enough to fuel many upcoming blog posts, at any rate! Regardless, I'm super happy with my purchases, and I can't wait to show you what I blew my money on. Other than this outfit, of course, which is
completely
new, except for the tights and the earrings. I kind of love it a lot. The skirt will be a new staple, I can feel it, and the shirt is the most perfect impulse buy ever. I'm not sure about the hat -- I love the look of it, but I have such a giant head that I wonder if it looks like the hat is about to explode off my skull due to its uncanny mass? Things to consider. (Although, according to Sherlock Holmes, a big head equals massive
intellect
, no joke, so perhaps this means I am just really really smart.)
Fourthly
, as you will know if you follow my
twitter
, I have an iPhone! It is... well I can't even put into words how amazing it is. I love it so much. I've named it Edmund, and it goes everywhere with me. I'm also addicted to Words With Friends, so if any of you want to get yo asses whooped to the ground by my English vocabulary skillz, my username is megsaucy. Add me! I'm also obsessed with
Instagram
, and my name is megsaucy on that as well, so if you want to see whatever random things I take pictures of throughout my dreary day, follow me there. I'll follow you back! Apps, I
love them
! Angry Birds, Plants vs. Zombies, some weird Tamagotchi thing I found and can't get rid of... love them!
So, it's been a while. How's everyone been? Awesome? Me too! ♥