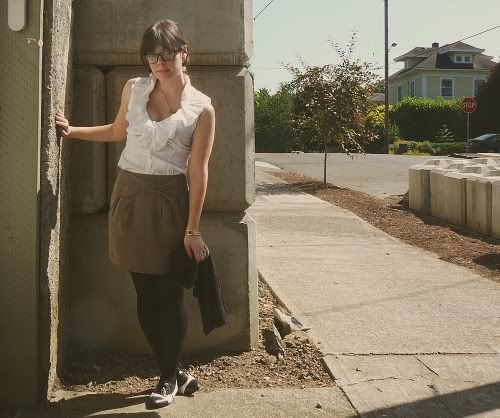 I had an "interview" with CampusPoint today, an agency that helps students and recent grads find jobs. It was a fun and exciting group interview. Group things always make me feel super awkward and judged. I'm sure nobody is actually judging me, but it's so awkward answering silly interview-type questions in front of like 8 other people. I'm so relieved it's over! I'm also pretty hopeful about finding a job through them; they sound like they'll be a really great resource.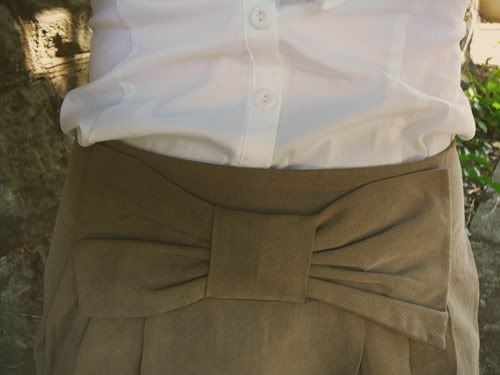 I'm wearing: F21 skirt and blouse, Target tights, Aldo shoes.
Shortly before my first interview here in Portland (which didn't actually end up happening thanks to communication fail -- thanks, Goodwill Industries), I realized I didn't have any professional clothes aside from a bunch of pinstriped hand-me-downs. I figured I should wear something that would make me feel confident, so I picked up this skirt and blouse from Forever21. Admittedly I wasn't very picky and kind of just grabbed the first two "business" items I found that went together, but I'm quite happy with the results. I feel young and stylish, but very put together and ready for interviews! It's the first step to becoming a real professional. It's funny how clothes can so often affect our feelings and goals. Now that I have an interviewing uniform, I'm prepared and motivated!
I think I'm going to make a jaunt down to 82nd after rush hour; I discovered a Value Village down there last time Greg and I went to Walmart. It's a super sketchy area of town, kind of far away, but I'm in such dire need of new clothes that I'll risk my sanity for such an endeavor. I've always had good luck at the Value Villages in Spokane, so hopefully this one will deliver. Wish me luck!