Oh boy! So there are a few gradual changes going on here on ye olde blog. Firstly, as you can see, I've been playing with the header image. The original argyle-print header was meant to be temporary, a place-holder until I got off my lazy bottom and actually got around to drawing a header image. Which, finally, I did! It was quite the struggle getting the hang of my Wacom tablet again (and I'm still very rusty), but so rewarding. Check out my
DeviantArt gallery
for more awkwardly-rendered digital art.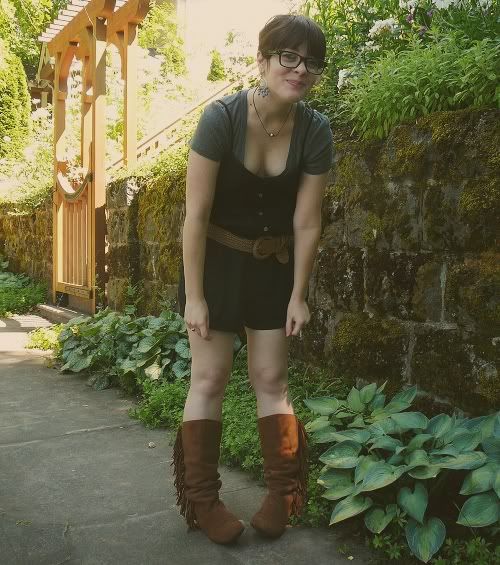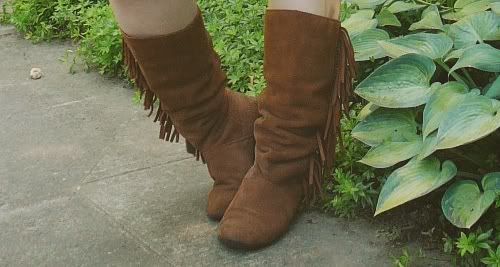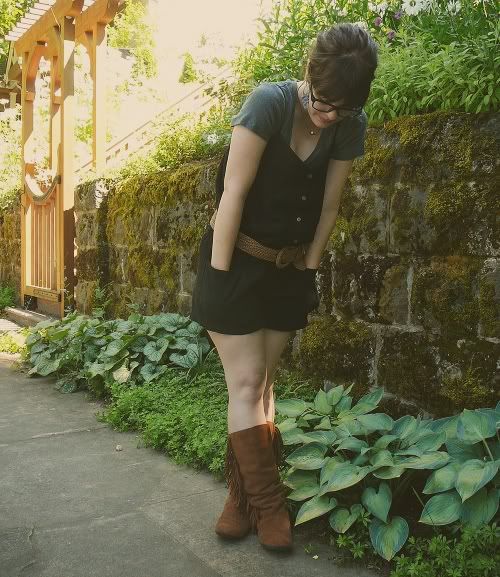 I'm wearing: Old Navy romper and t-shirt, Target suede boots, Wet Seal belt (from a skirt).
Wow, so this outfit. I'm not sure what I think of it. I've been wanting to wear it for a while now, but never got around to it until now. I'm kind of wishing I'd never gotten 'round to it, though, as it has become apparent to me that this romper is
severely
unflattering. It shows off my legs and hides my waist, which is admittedly the opposite of what I want my clothes to do. And then paired with the boots, it makes my legs look like little stumps.
Sigh
. Oh well, it can't be helped! There has to be at least one dud outfit in every bunch. At least I don't
hate
it, I just feel rather like a shapeless sack.
It didn't help that Greg made fun of my posing during our shoot today! I couldn't stop laughing, and it made me all self-conscious and awkward (more so than usual). He said I do the same "bend the knee, look down" pose every time... and it's true! How embarrassing to have one's formulaic outfit poses pointed out. I suppose it's just an innate need to look elegant, streamlined, and skinny, which is in itself somewhat silly. Why do I feel the need to assume unnatural stances in order to look "better"? Why not just slouch and glare at the camera like I usually do when walking about on my own? I'm not sure anybody would want to look at those photos, for one thing. I can tell you, I'm a huge sloucher. I've a long torso, so it's hard for me to hold my long bendy spine up in a straight line for very long. All you long-torso'd people will agree! It's a pain. Perhaps my poses are all an attempt to make my legs look longer, my torso shorter, my arms leaner? Apologies, Greg, but I will continue to adopt these ridiculous poses, regardless of your mockery! So there.