Apparently it is not ideal to have my outfit photos taken in the late afternoon. The sun is so high overhead, and at just the right angle to create annoying backlighting effects that aren't exactly optimal for outfit shoots. Admittedly we could find a different location, but neither of us really enjoys the photography process so we try to get it over with as quickly as possible. I feel awkward posing, and Greg feels like a dork taking my photos, so... perhaps we just need to suck it up and get over it. Or join Hermits United and live in a cave in Siberia.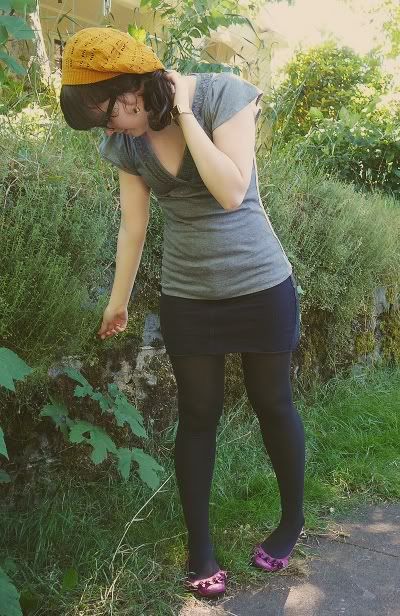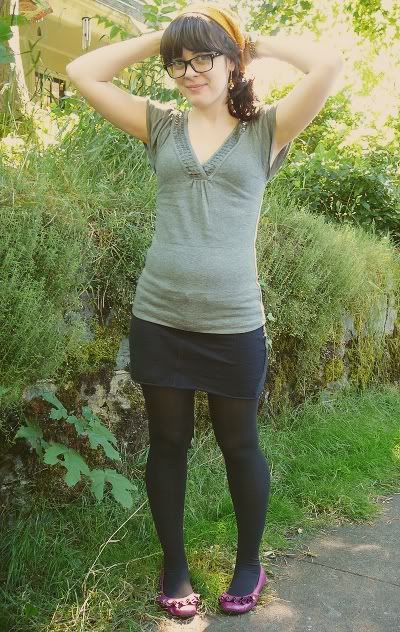 I'm wearing: F21 skirt and hat, Target tights, Old Navy flats, Express top.
Wore this to get lunch at the food carts downtown with some friends. I got delicious pad thai, but we had to wait for like 30 minutes to get our food. Efficient and convenient, this food cart was not.
I'm slowly running out of items of clothing to wear before I begin to recycle hardcore. I got rid of way more clothes than I should have before the move, so I'm left with slim pickings for outfits. On the bright side, it forces me to get creative with my outfits instead of just wearing a new dress every day. On the not-so-bright side, it forces me to wear outfits I normally wouldn't choose to wear, just to avoid duplicating looks. We'll see how it all turns out. And maybe I'll get a job soon to help fund my sartorial addiction! *crosses fingers*