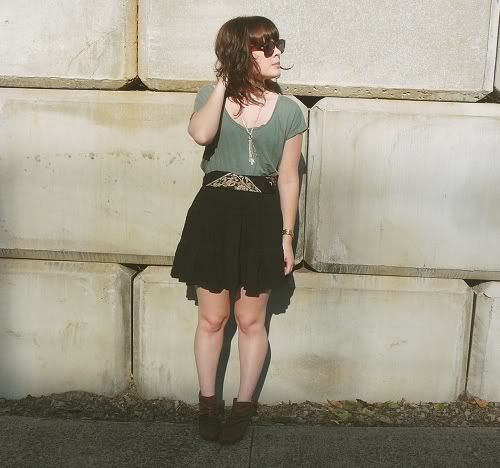 Oh man. So many awkward things about my shoot today. Firstly, I was super slow about getting dressed today (I woke up at 3:30pm), so my photos didn't take place until the sun was low in the sky. Which means, brighter light and more shadows! Super annoying. Also there were some women sitting on a bench across the street, and I was totally awkward about posing and smiling for my self-timed camera. Thus my serious expressions; I was so embarrassed. Apparently I thought not smiling would direct attention away from my posing and photographing?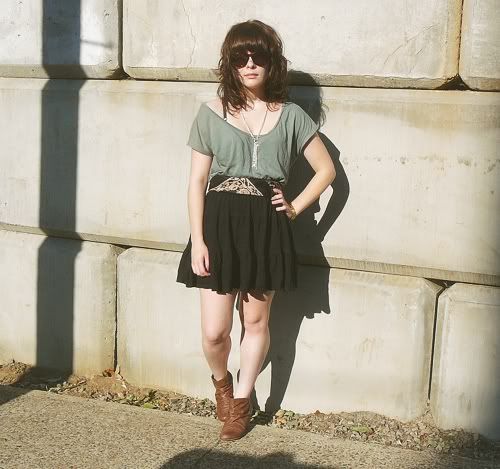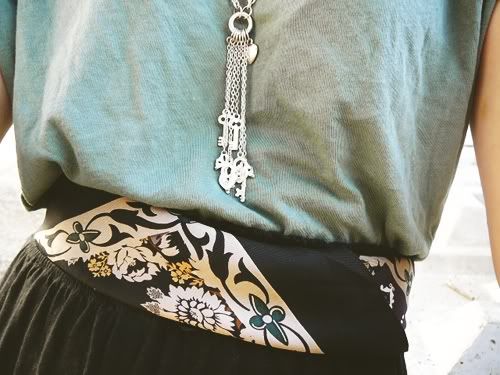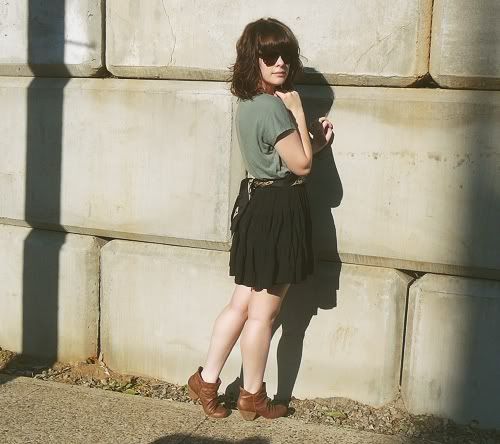 I'm wearing: Target skirt, American Eagle shirt, thrifted scarf as belt, Blowfish booties, necklace from Greg.
I'm sorry I look so angry in most of these! Greg hates it when I do the "emo" look, as he puts it. I just feel silly smiling for a camera with nobody behind it. Is that ridiculous of me? No less ridiculous than standing out on the sidewalk taking pictures of my clothes, I guess!
I loved all of your suggestions for TV shows I should watch. I do love
The Big Bang Theory
, especially the episodes with Wil Wheaton as a guest star. Geek lurve! If you guys like
Big Bang Theory
, you should definitely check out
The IT Crowd
. It's a British comedy, and the writing is incredible; it's so freaking hilarious. Look it up on Youtube for clips or full episodes. It's so worth your time!
Oh, am
dying
for a job; I itch to play
Lego Harry Potter
but it belongs to my friend, so I can't play it unless I'm with her, and I can't afford my own copy. So frustrating and sad! I was so happy to hear so many of you love the Lego games, though. Aren't they the best? So cute and fun! And hilarious! I can't wait to play the rest of HP, it should be pretty awesome. Any other fun video games you guys love?