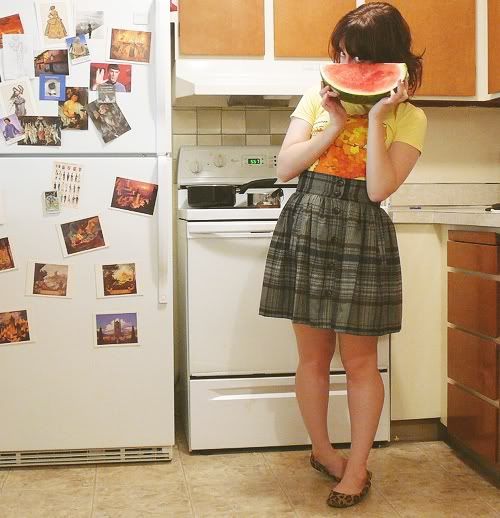 It's so hot out today that I couldn't
bear
the thought of standing out in the sun, sweating everywhere, trying to look cute for photos. It just wasn't going to happen. So instead, I took my pictures inside! Greg managed to wander into a few of my photos, but he was being inappropriate, so you only get the one photo of him drinking milk straight out of the jug. Silly boys doing cute boy things. I love that he's so tall his head got cut out of the photo! Silly giant Greg.
Also, if you study the pictures and magnets on my fridge, you can possibly learn a lot about me. It's like a fun game... who can spot the Vulcan?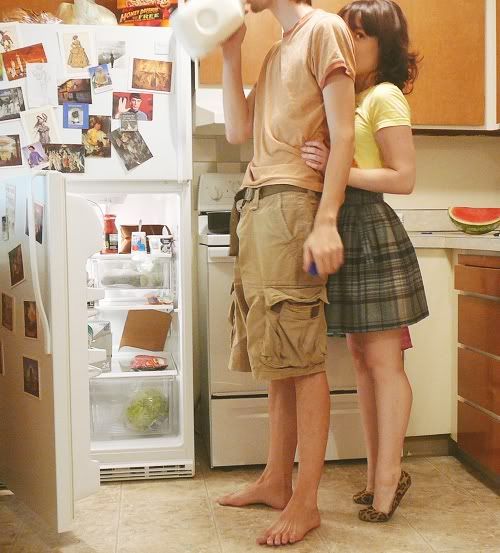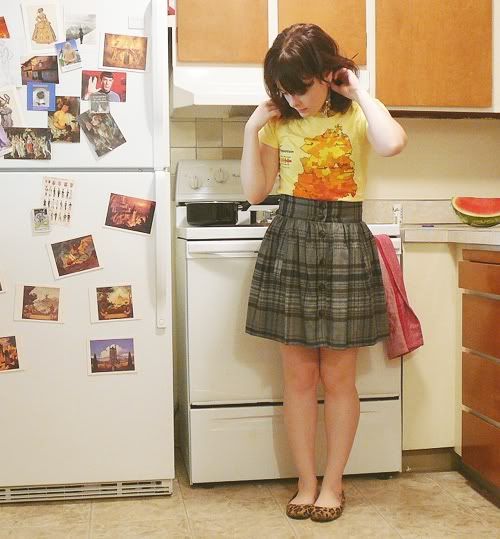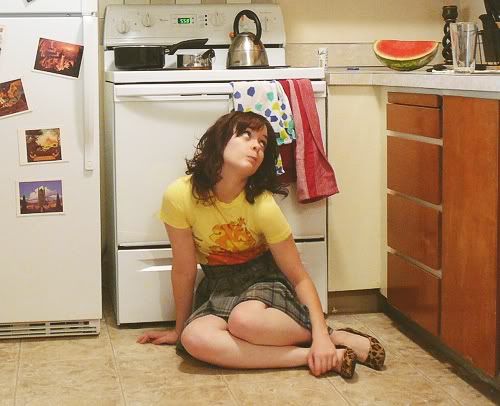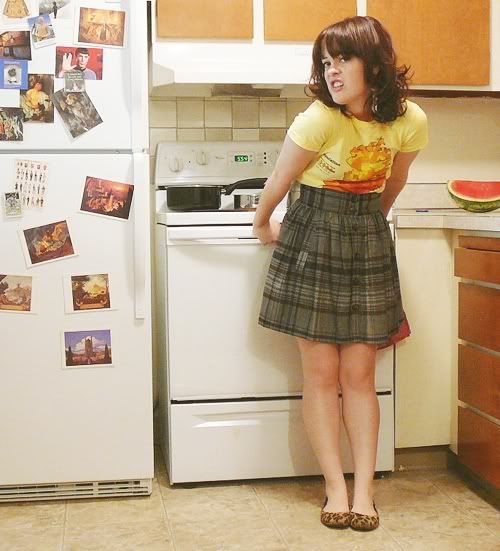 I'm wearing: French Connection skirt (via Buffalo Exchange), ModCloth t-shirt, Target flats.
This is a fall skirt! I won't deny it. Not only does it possess muted, earthy plaid tones perfect for fall and winter, but it's made out of a soft lined flannel. However, I'm so limited in my clothing choices that I thought I should bust it out for an outfit anyway. Plus, I just love its shape and style, and it has perfectly located pockets as well as an adorable buttoned front. I couldn't pass it up when I saw it for 50% off at Buffalo Exchange, and I have some credit there, so I snapped it up. I mean seriously, I can't be expected to wait to wear it until fall!
Greg and I picked up a ton of groceries at Fred Meyer today, and proceeded to make a
huge
(3 boxes of pasta's worth) batch of pasta salad. This is one of our favorite foods to make in summer. It's nothing special, just whole grain penne and rotini pasta, chopped up bell peppers, and Tillamook cheddar cheese cubes. Delicious! And Tillamook cheese is so much cheaper here; I love it. The best cheese ever, in my opinion.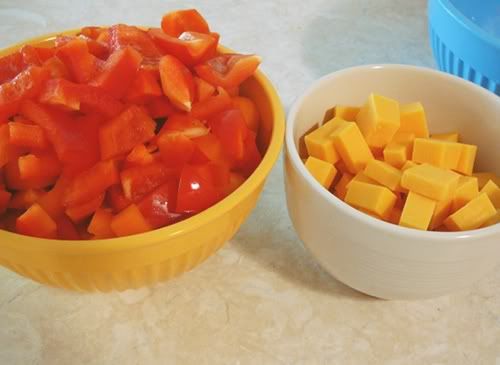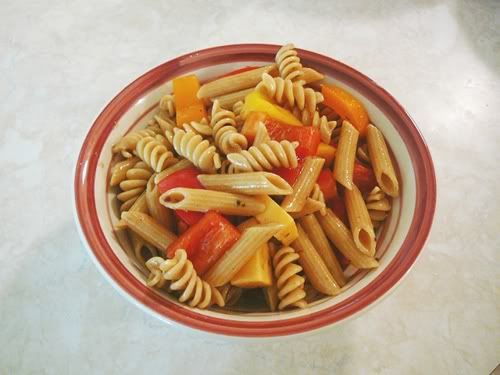 Om nom nom, peppers, cheese, and pasta salad!
Speaking of delicious cheese, I picked up this
No Woman cheese
in the special super expensive cheese section of Fred Meyer. Somebody had recommended it to me a while ago, and I never could get this cheese and the desire to try it out of my mind. So I splurged; I had to try it! I don't regret it, either. If you like to eat chunks of cheese as a snack, this is the cheese for you. It's infused with spices, and it has a hint of brown sugar. So nommy. I highly recommend it!
And now this blog has become a food blog, apparently? Not that anybody's complaining, I'm sure. We all have to eat, and who doesn't like a new cheese recommendation? Nobody I would associate with, surely.