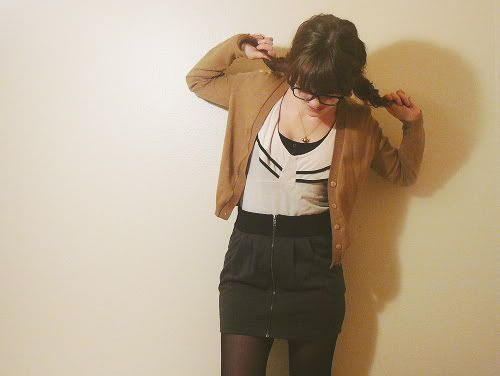 Sometimes I am taken by an overwhelming desire to avoid all contact and interaction with human beings other than those closest to me. ("Those closest to me" includes internet friends. They do not require me to fake a smile, or speak with pep in my voice, or even look up from my book when I don't want to.) Sometimes I just want to pull an invisibility cloak around myself and hide from the world, completely immersed in my own thoughts, just me and my music and a mug of cocoa. Nobody else.
At work I am able to simulate this situation with a scarf wrapped to my chin, my winter coat buttoned and the hood pulled up, my body hunched over my desk and cup of tea. However I can't avoid the inevitable human interaction when I venture to the break room to heat up my lunch. I escape at the first possible moment and return to my cubicle, a blessed refuge from small talk.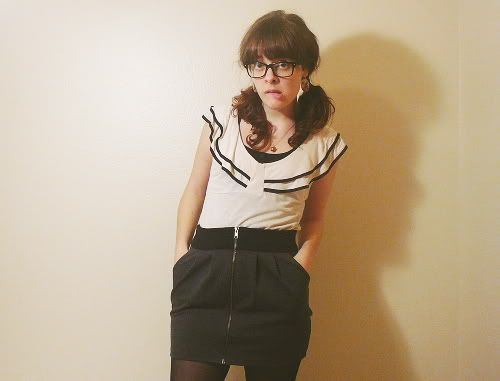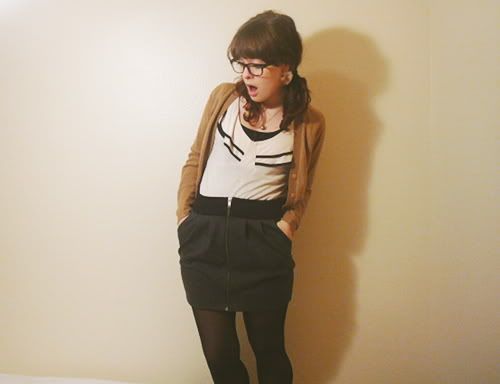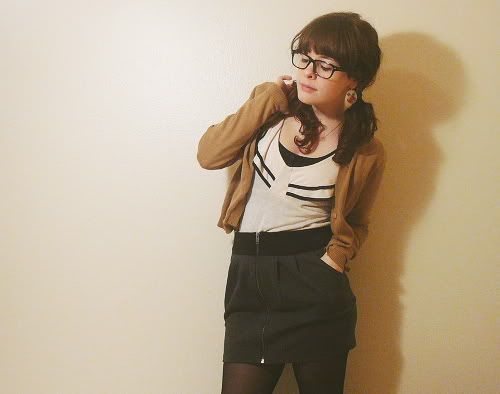 I'm wearing: H&M top, UO cardigan, F21 skirt, earrings from Rose.
I'm not usually like this. I don't often revert to the extreme side of my introverted self, even though I always felt the "I" of my INFJ personality was by far the most prominent of the letters. Sometimes I even feel myself leaning vaguely towards an "E", but inevitably this is short-lived and I remember how much other people exhaust me, how much anxiety they can cause.
It's okay, though. I don't mind too much. Sometimes the stress of life just gets to me and I recoil, waiting it out until I feel safe to emerge. It won't last long.
Tonight I'll watch
Tropic Thunder
with Greg (Netflix to the rescue), and feel better. Until then I have four and a half hours of human interaction to sustain. Wish me luck. I will need it.