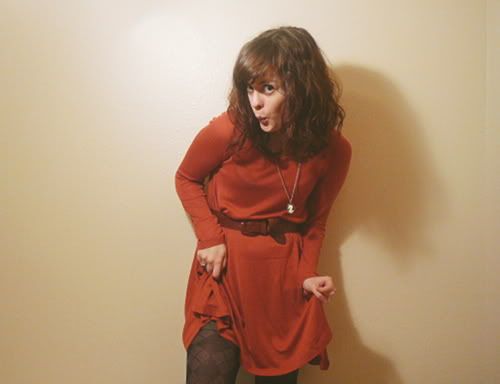 Well well well! It seems I'm not wearing my glasses in these photos. Also notice my greasy, swept-aside bangs.
This dress is something I got a billion years ago (Christmas Eve-ish) at H&M, but never wore until today. I was waiting to buy a slip to go with it, but never did get a slip, so I just wore a slip that went with another dress of mine instead, even though it's an awkward slip that's a bit too small. Anyway I wore this dress, and I like the way it kind of swings around all nicely and A-line when I belt it, but it's a bit unflattering when not belted. Hmm. I love the color though, and it's super soft! I just feel like it's not quite as flattering as I'd thought when I tried it on originally.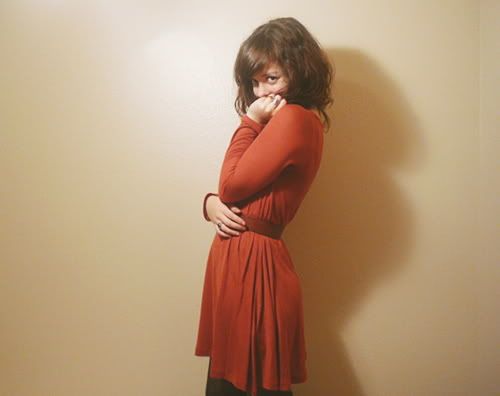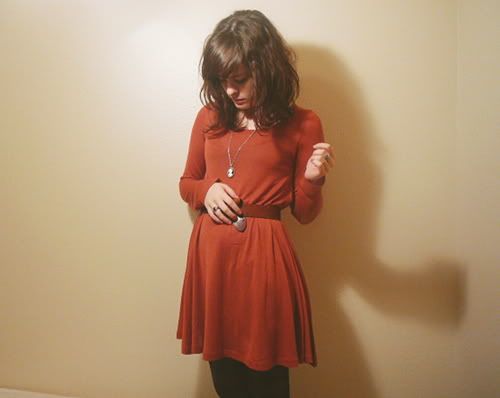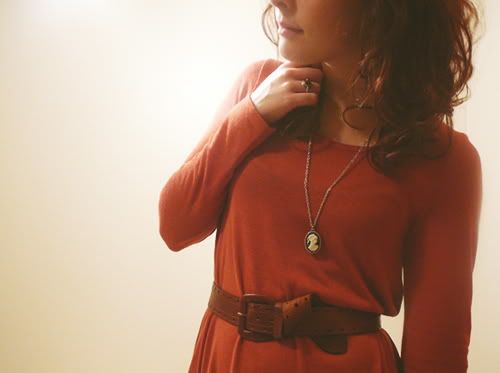 I'm wearing: H&M dress and necklace, Target tights and flats, thrifted belt.
I feel kinda like a pumpkin in this dress, though. Like I ought to be wearing it in October, not mid January. It's like come on, Meg, that dress is
so
three
months
ago! Although if I got a proper rope belt for it, I'd feel like a Medieval peasant or something. I always think of Medieval "fashion" when I see long-sleeved dresses. Kinda like this:
Only I have a vision of myself wearing this kinda gold embroidered belt, leather pointy shoes, a weird skullcap, and then a green velvet cloak. I'd wander around the woods outside respectable villages, preying on the lithe young men whose strength I would then exploit by forcing them to build a hut for me amongst the trees. I would then share my dinner with them and we would discuss how to win the favor of the king through coercion, lies, and manipulation, and the occasional use of my mage powers. After all this came to fruition according to my plans, I'd then ensure that all blame was placed on my strapping young minions when the king was later seduced and murdered. I would then take my place as rightful queen, as I'd been an outcast illegitimate child of the king's, and he had not yet named an heir. His only daughter, age 11, would soon perish in the night on account of a mysterious sickness.