Ka'plah
is Klingon for "success."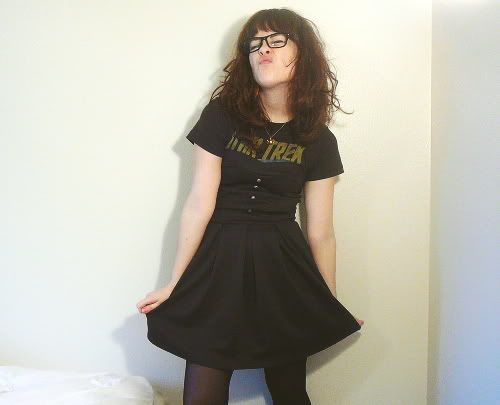 I'm wearing: Heather's dress from F21, Hot Topic t-shirt, H&M cardi.
Another WW swap item today! I can't get enough. It's like Christmas, only better. This time I'm wearing
Heather
's dress; check out how
she styled it on New Year's Eve
! I love this dress to death. When I saw it on the F21 website a while back I wanted it in red so badly, but never got around to ordering it because I'm terrified of strapless things. So when Heather put it up for swap, I was on that shit like a Klingon on Uranus. I think I totally nailed it with the Trek shirt underneath. Whatcha think?
I'm also continuously playing around with saturation, white balance, and contrast with my photos on here. Sorry if they're a bit inconsistent at times, but I guess I edit them according to what I feel will fit the outfit best. And also according to how shitty the light is in my room. Whatevs.
Heh heh heh did you get my reference to that Klingon/Uranus joke? Heh heh...