Welcome to the desert of the 40-hour work week. (Yeah that was a "90s reference" right there, thanks judgey judge-pants!) This has been the absolute wooorrrst week in recent memory. I'm overwhelmed with stress about the grad school application process, out of money (thanks a lot passport), sleep-deprived, and gaining weight even though I've been eating healthy all week. Then yesterday I got the worst call ever at work and it was not fun. Also yesterday I spilled boiling hot pasta on myself and the couch. Fail.
Today is looking up, though! Despite a continued lack of interest in social interaction, I don't feel like I want to curl up into a ball and die either. Plus it's Friday. So that's an automatic ten points to
Gryffindor
Meg's happiness.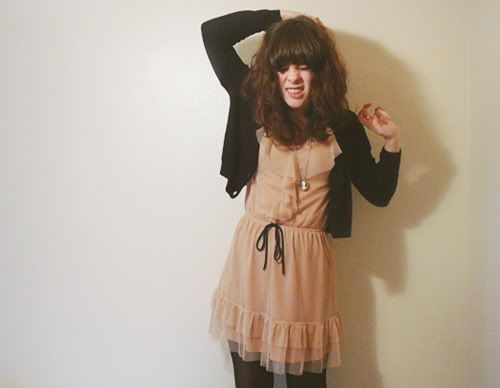 I'm wearing: Target dress, H&M cardi and necklace.
I actually took these photos yesterday, because I'm apparently a day behind with my posts. This is good though, because now when I get home I can just collapse on the couch without worrying about my blog. Ha! Fridays rule! Endless possibilities for napping.
Tomorrow I'm going to get a bunch of stuff done for my grad school applications, which is exciting. I can't wait to get this all finished and out of the way so I can sit and wait for my (hopefully) acceptance letters. Ahh!