It is effing FREEZING in our apartment! And I'm too cheap to turn the heat on, so I'm huddled under a blanket with my fingers going numb as I type. It's not even that cold out. It's probably even above freezing, as it's raining out there in the dreary dark winter night. Kinda depressing. I may heat up some hot cocoa or cider here in a bit, and perhaps indulge in a Tim Tam, although I really should stick to my diet. Poop. That's what I get for eating way too much over Christmas and New Years!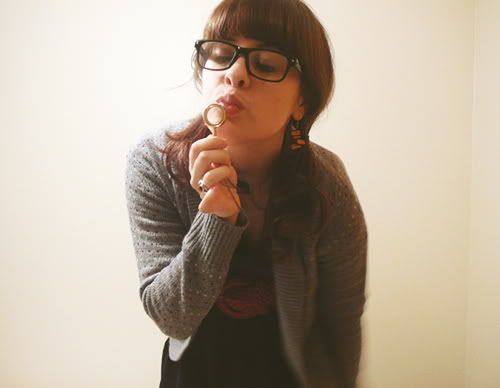 I'm wearing: Wet Seal top, F21 belt and sweater, Old Navy skirt, earrings from friend (from Mexico!), necklace from Mom.
Again, wearing the silly black booties that are amazing and go with everything.
I realized that the reason I always end up posting pictures of myself in which I'm looking down (presumably at the floor) is because my glasses make my eyes look weird in photos! Seriously. What happens is the top part of the frame obscures the tops of my eyes, and then I look weird and owlish or something. I don't know, but it angers me. So I end up posting a billion photos in which I'm staring down at the ground for no reason. This annoys me, because who wants to look at photos of me staring at the ground over and over? Blergh. I wish my glasses didn't do that. Oh well, maybe I'll just lie from now on and say there's a tiny sloth that appears at my right ankle every day when I'm taking photos, and I have to keep an eye on it otherwise it will try to eat my Tim Tams.
Speaking of foreign snacks, why on earth are Digestives so flipping expensive at the store?
Seriously
. I know they're like, imported or
whatever
, but I want to eat them without spending $6+ per package! American snacks are so inferior to them. They're not too sweet, but so crunchy and satisfying. Where can I buy cheapo Digestives, people?
I think I'm going to convince Greg to see
Season of the Witch
with me this weekend (hopefully Friday). It doesn't even look that outstanding, but I can't resist a fantasy/historical drama, and Robert Sheehan is in it! Greg and I saw a TV spot for it, and I asked if I'd just spotted the guy from
Misfits
in it, and Greg didn't know. So I looked it up. And I had! Hey, Irish dudes. You have hot accents.
Finally, here's another picture of me doing that annoying fish lips thing!