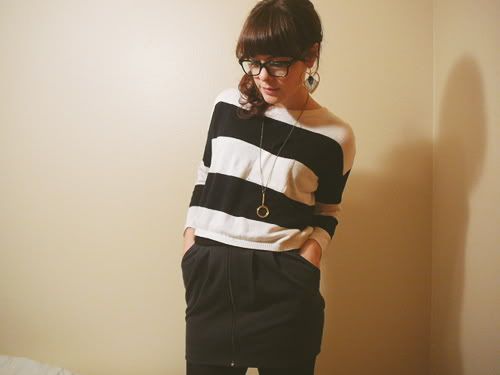 Today's outfit looked a lot better in person than in photos. At least that's what I told myself as I went through the 100+ crappy pictures I took. I think from now on we don't pair the loose, cropped sweaters with tight hip-hugging skirts. Because... it does not show off the bits of my body that I would like to show off, and then it shows off the parts I want to hide. Bah! Oh well, I felt badass all day, so I guess that's all that matters!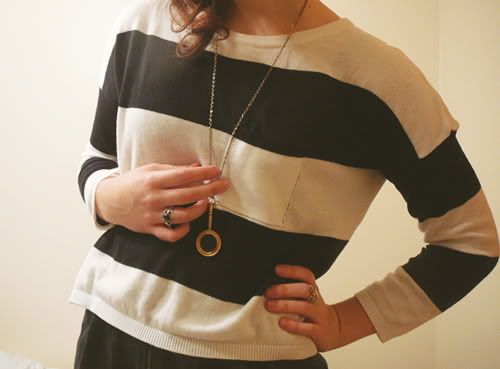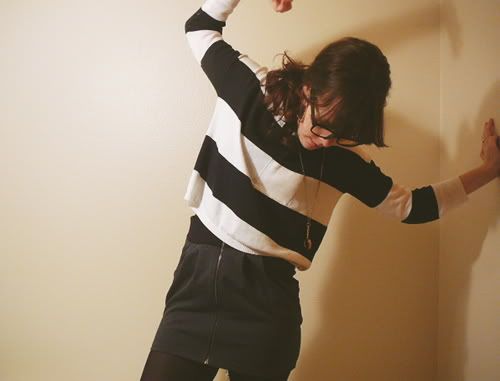 I'm wearing: H&M sweater, F21 skirt and earrings, necklace from Mom.
I'm also wearing the black boots from DSW. In case you were curious about how my look was ~completed~.
So yeah, boohoo, I'm PMSing and everything is making me feel ugly and irritable. In the spirit of being irritable, then, I shall talk about some weird blogging "etiquette" things that are either confusing me or annoying me lately. Firstly, what's the deal with commenting? I feel like a ton of the comments I get are from people just flitting from blog to blog, leaving brief-ass comments so they'll get a visit and a comment (and a follow??) in return. Case in point, recently I went through the comments in one of my posts and checked out the blogs I'd never visited before. I left comments on some of the ones I particularly liked, because I felt like leaving a comment. Then, like the next day, those same people came back and commented on my blog, saying stuff like "hey great blog, glad I found it" or something, as though they didn't remember coming here before and commenting? I mean I don't exactly
care
, it's not like my blog is totally memorable, and yeah I'll go to somebody's blog and forget about it later so it's not like I'm mad, expecting them to remember me OMG I'm so great... no. It's just that it makes their commenting motives clear: they don't comment because they really like my blog, they do it because... probably they want me to visit their blog in return.
This is a practice that I see a lot of in the land of style blogs. People just throwing dime-a-dozen comments out there like crazy, hoping to gather more traffic that way. Which is fine, and if they want to do that, more power to them. I guess what worries me is that, if these comment-whores do end up leaving a comment on my blog, am I required to comment back? I notice a lot of bloggers replying in kind to such comments, but honestly, I don't. It's not because I'm trying to be a bitch, I just don't have
time
. And to be frank, I only comment on blogs that interest me, and on posts that actually make me want to leave feedback. I don't want to just leave some hollow blurb like "cute pics xo," a completely forgettable and useless comment in my opinion. Some may like those comments, but I'd rather be thoughtful and genuine with mine. I guess lately I'm just worried people will somehow notice that I'm not like, commenting on their blog every time I get a comment, or something, but that's just not how I roll! I comment how and when I like! I'm sorry if you leave comments here wanting me to follow your blog, seriously, but I will only do so if I feel like it and your blog is awesome. The end. That is my disclaimer. Now I won't feel like a total ass if I fail to comment on people's blogs. (Not; I always feel like an ass.)
Wow, rant much. But seriously this is bugging me lately! Another thing that bugs me is that sometimes I'll find a blog that has really great photos, and a cool layout and whatever, but for some reason or other the blogger herself just rubs me the wrong way and I can't follow her blog. This bugs me because it makes me feel bitchy, but seriously... I can't be friends with everyone, right? Or am I just crazy! Does this happen to anybody else?
Wow what an elitist, complainy post. I really don't mean it this way; I'm just trying to open up some of my blogging concerns and see if I'm alone here. I'm sure there are plenty of people who think I'm super annoying or my writing style is stupid or whatever, which is cool! That's how life works and such. (I just hope they won't leave bitchy anon comments ever.) So yeah. Hmmm. Deep thoughts with Meg.