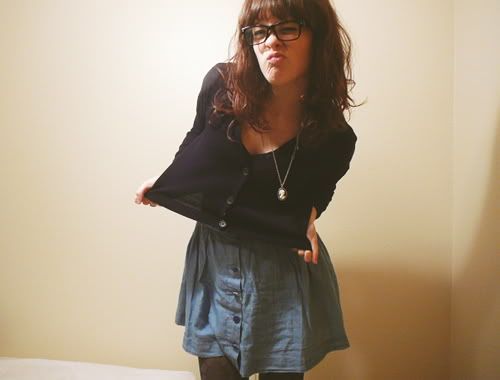 Disclaimer: this is what Greg wanted me to title the blog post. I take no responsibility.
So this is an outfit I put together in the H&M dressing room, and knew I had to wear it come Monday. That's how I work. So yes, I'm a little bit addicted to H&M. Just a little! Only a
tad
. Goodbye, all of my paychecks! Good thing I have a savings account for my Comic Con monies, or I'd never save up enough for it.
Also notice I'm wearing a cropped sweater again. A
cardigan
this time. Branching out! I also just got two new cardis in the mail from UO, so I'm totally set for cardis forever and ever! Until I buy a new one.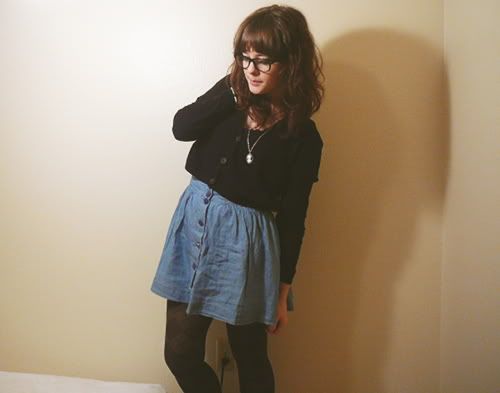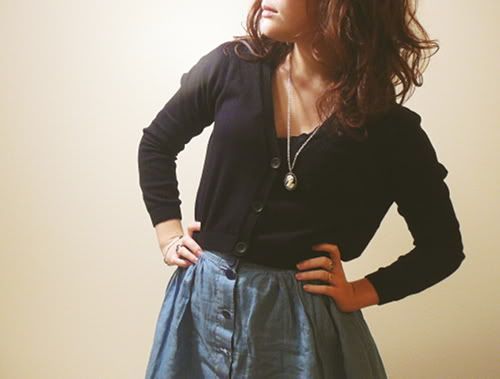 I'm wearing: H&M every-flipping-thing, Old Navy striped t-shirt, Target tights.
I think I'm going to look into attending grad school in England. I've been bit by the post-grad education bug, and I really want to be a therapist or counselor. Also one of my dreams has always been to live in England, and Greg says I should do it and not let him be a reason to stay here, so... I'm gonna look into it. I'm scared shitless! But I'm also really excited that I'm allowing myself to look into it. Augh, do you guys have any advice? What do I do?!
Anyway I'm supposed to hurry up because Greg and I need to start season 5 of
Dexter
, so that's taking precedence now.