I totally love my outfit today! Finally an outfit post I can be proud of. Okay not really, I am proud of all my posts, but seriously... I actually liked how all of these photos came out! They're a bit dark, annoyingly, but whatever.
And I actually straightened my hair? When does that even happen? Never, is the answer. Well, occasionally. ...
Rarely
. It's so much work to do it, and then I end up missing my curls by the end of the day, so I hardly ever straighten my hair. But last night I had the urge, so I did it. I actually really like how it turned out! I didn't realize how long my hair had gotten. I'm so happy, it seems like
ages
since my hair was this long!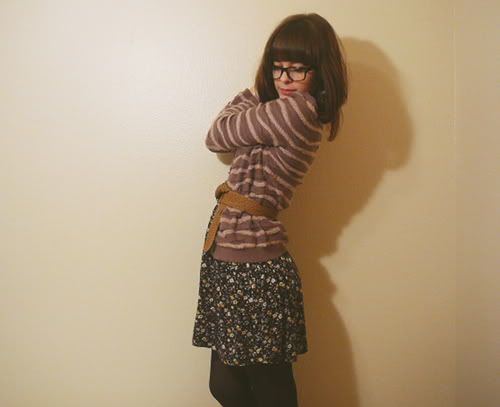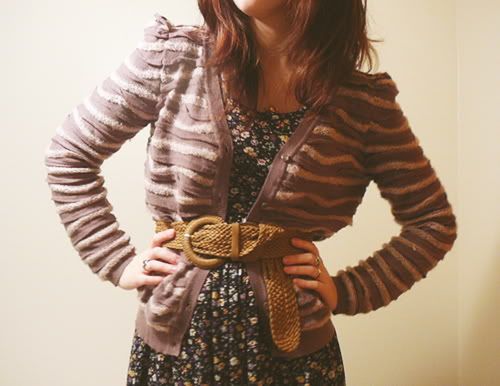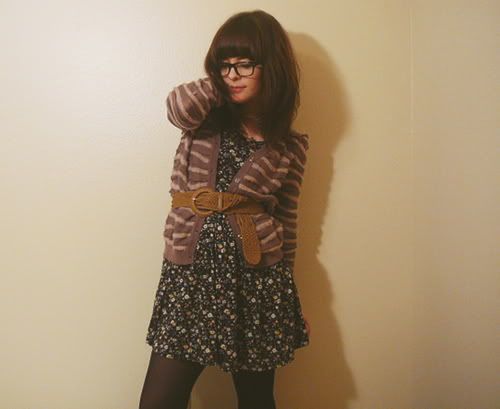 I'm wearing: F21 dress, H&M cardi, Wet Seal belt (came with a crap skirt), Ross boots.
Okay so this dress! Funny story. (Not really that funny; when you hear it you'll be like, "cool story, bro.") When my mom and I were shopping on Christmas Eve, we went to Forever21 and my mom spotted this dress. She liked it a lot, and it was exactly the kind of dress I'd been looking for (floral, 3/4 sleeve, jersey, empire-ish waist), so we both tried it on. Of course, we both ended up loving it so we both got it! I got it in two colors, since it's super versatile and it was
super
cheap, so we ended up with matching mother/daughter dresses! Super nerdy... but at least we don't live in the same city so there's no chance of us accidentally being caught wearing them on the same day.
Anyway I just want to say I'm totally surprised, in a pleasant way, by all the feedback on my ranty post! The second I posted it I was consumed by anxiety, thinking everybody would think I was just being whingy, but instead I got a million comments of solidarity. Thanks, guys. I'm glad I'm not the only blogger annoyed by spam comments, haha! Not that anybody enjoys them, I'm sure.
Yerp. I'm meeting up with my friend Ashleigh later this evening to get coffee and shop ye olde Urban Outfitters. I'm so excited. I haven't even been to UO since we moved to Portland, wtf? Hopefully I'll find a camel cardigan on sale!!! Crossing my fingers!