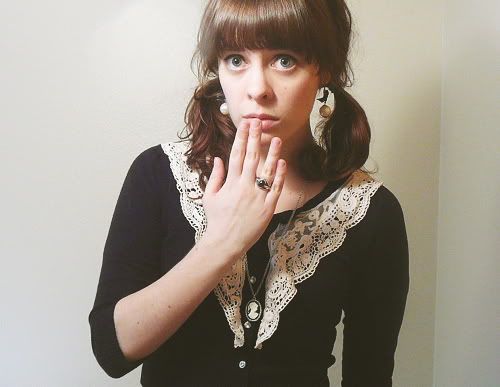 This is my sorry attempt at sort of trying to emanate a Gothic Lolita
vibe
with my outfit today. What began as a plan to wear all black and wander about glaring at everybody (last week was trying, and it's best to keep people at a distance lest they make things worse) morphed into me wearing the girliest black and white stuff I could find, and putting my hair in pigtails. Then I made my eyes as big as they'd go for these photos. I'm proud of how big I got my eyes to go. Aw yeah.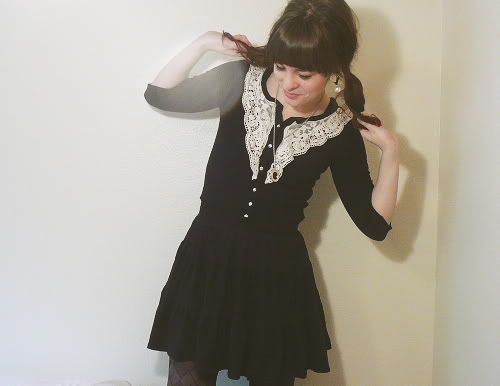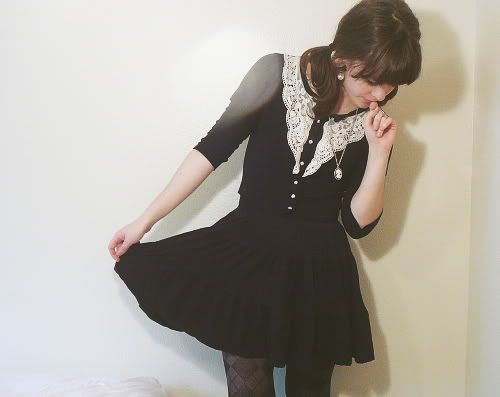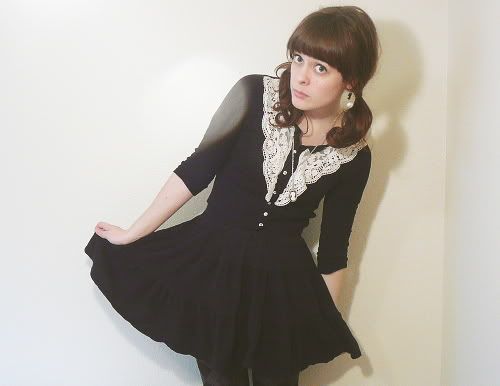 I'm wearing: Old Navy skirt, F21 cardigan and earrings, Target tights, H&M necklace.
I felt pretty awesome in this outfit all day, regardless of whether or not I pulled off the Gothic Lolita thing. At least I can say I was
inspired
by Gothic Lolita, as I'm not really quite
here
yet. I love the aesthetic of Lolita style, though. I'm so inspired by Japanese street style, particularly in the veins of Mori Girl and Grimoire. So pretty. When I live in a castle of my own I will dress solely in Grimoire style clothes, and gaze longingly out of windows.
Also, yes, I used to be totally obsessed with anime and I still think some of the best shows/series I've ever seen were anime. I particularly love
Gankutsuou
, based on
The Count of Monte Cristo
but in a crazy acid technicolor sci fi future, and
Samurai Champloo
, by the one who brought you
Cowboy Bebop
. And if you haven't seen
Cowboy Bebop
, then I just don't know what to do with you.