I kind of want to quit life, join a monastery, and write forever. Never mind that monasteries are religious places of prayer. In my fantasy monastery there would be secular writing. And lots of cheese and wine. And harpists to play for me while I wrote, and personal masseurs named Lars. So basically your typical monastery. I'd just get up, inhale deeply of the cool mountain air, and write the next bestselling teen fantasy novel.
Then, when I was finished, I'd strap my manuscript to the back of a mule and begin the treacherous descent to a Hungarian village below, my cloak pulled tight about my shoulders, feet deft and sure on the uneven path. Upon reaching my destination, the village inn, I would read over my manuscript and edit for the hundredth time. In one hand would rest a mug of hot wine, my only movement the occasional turning of a page or sip of drink, my only sound the rustle of parchment and scratch of quill.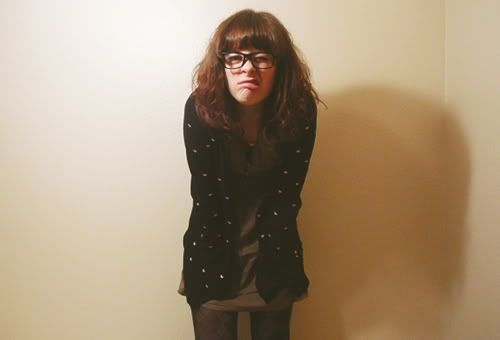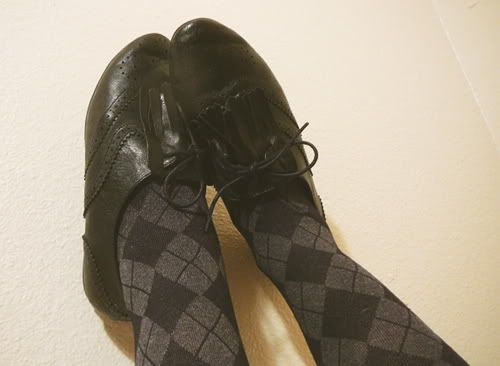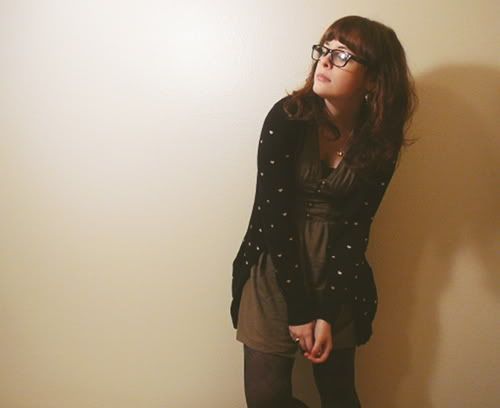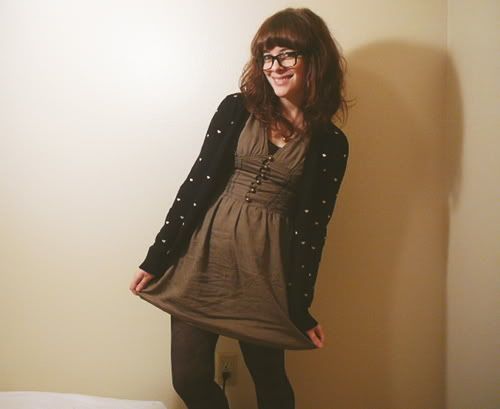 I'm wearing: Papaya dress, F21 cardigan, ModCloth shoes, Target tights.
My manuscript would be an astonishing hybrid of adventure, romance, intrigue, fantasy, and perfection. Publishers would line up at my door, offering outrageous sums for the opportunity... nay, the
honor
, to publish my work. "Guys, guys, calm down," I'd say, a pipe in my hand and a monocle at my eye. "One at a time, one at a time."
Finally, after much deliberation, I'd come to an agreement with the publisher who could offer me the greatest payout (seven figures), the most publicity, and a free car. The chosen publisher would be overwhelmed by their good luck in snagging my genius for such a reasonable price. Immediately upon reaching number one on the bestseller list, production would begin on a film adaptation of my book, starring Benedict Cumberbatch and Zooey Deschanel. The original score would be an unexpected yet surprisingly magnificent collaboration between Hans Zimmer and Patrick Wolf.
Meanwhile, I would cruise about London in my complimentary Bugatti Veyron with Greg, sipping Coke Zero and singing along to Bon Jovi.
And I'd be wearing this outfit the whole goddamn time.