Happy Tuesday, all! There's one good thing about being unemployed, and that's the fact that I don't feel obligated to hate Tuesday like I did when I was working. There's just something about Tuesdays that I highly dislike. It's not Monday, so you're not fresh from the weekend, but it's so early in the week that you can't get excited about Friday yet. Wednesday is nice because it's Hump Day, Thursday is Friday's Friday, and Friday is, well, yeah. Tuesday has nothing going for it. Nothing! Except for cheap ticket Tuesdays at many movie theaters. But that doesn't count. Happy Tuesday anyway!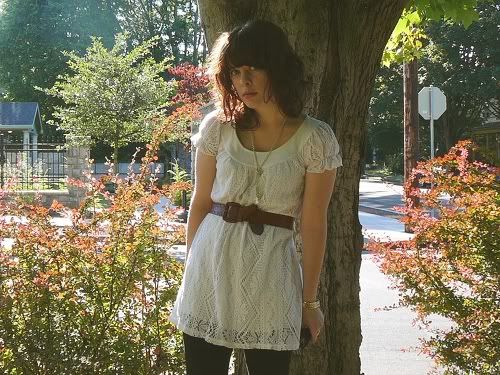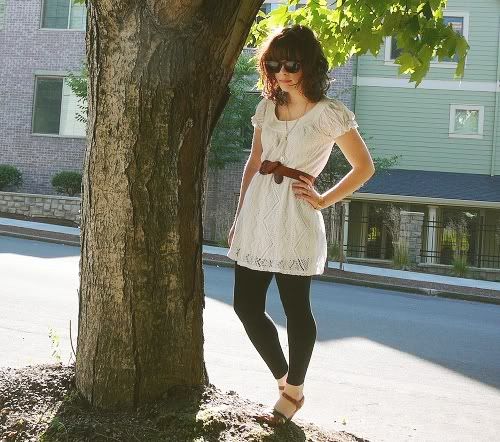 I'm wearing: Thrifted dress and belt, Target leggings and shoes, Ralph Lauren sunglasses, necklace from Greg.
As promised, an actual outfit post today! I wanted to try to style this dress again, with a more laid-back and bohemian vibe as opposed to the black and white, romantic look I had going
before
. Also, I'm wearing these shoes out for the first time this summer. I just can't ever come up with an outfit that I like for them. Maybe I just suck at styling heels and wedges; who knows?
So I've been convinced to try
Mad Men
! (Anne of
For People Who Wear Clothes
did the convincing, in case you wondered.) I know, let's all jump onto the bandwagon together and high-five, but I was told the characterizations were super well-written, and I am a
sucker
for well-written characters. Characters are always what make or break a book, show, or movie for me. If a character doesn't grab me, even if the plot is excellent, I'm lost. I just don't like bland characters. Whenever I write, I try hard to focus on character development and dialogue, as well as believable relationships and character traits. Plot, to me, is secondary. How do you all feel about characters versus plot? Is one more important than the other, or do they rely on each other to create a believable and enjoyable story?
That's probably why I've grown to love
Fringe
so much. The characters of Walter and Peter Bishop really appeal to me, and their father/son relationship is the most interesting part of the show. I mean, yes, two-foot worms popping out of people's mouths is also exciting, but what keeps me watching is the development of Walter's character, and his hilarious dialogue and eccentric personality. He's one of my favorite characters in a show right now (others include Eric Northman, Maurice Moss, and John Watson), and unlike some "crazy" characters, his eccentricities don't seem forced or overly repetitive as a means to force comic relief. Yes, he
is
one of the only really funny things about the show, but it doesn't seem contrived or awkward to me. His character is truly believable, sympathetic, and genuine.
So now I've gone on a ramble about characters in TV shows on my style blog. Let's try to tie it all together somehow. Hmm. I suppose I can just say that, on my blog, I am almost like a character to my non-RL readers. The only things they know about me are what I write on here. So I try to keep it interesting, but also real. Because I am real, and I don't want to put on a farce to keep people reading. Perhaps this is what draws us to certain blogs; not so much the clothes, or the photos, but the personality behind those things. I like to think this is true in my case, but I really am a sucker for pretty pictures...