All right, dear blogger friends and readers. I mentioned something about this a while ago, but then promptly forgot about it! Now I've remembered at 2:07am on Tuesday morning. You see, I'm currently unemployed, having just moved from Montana to Portland, Oregon in a frenzy of excitement and ambition. However, I have yet to find a job, after applying for roughly 150+ in the last two months. Well, I thought, since I have this fun ability to draw, perhaps I could offer something up for my readers for a modest price. Yes, a price. I know, I know... but it's custom art, and hey, it's not everybody who can say they had a custom portrait drawn! Can they?
That said, please spread the word if you can and are so inclined: I will be offering custom digitally drawn portraits, such as the one in my header (and seen below in larger def), and the one I drew for
Amber
: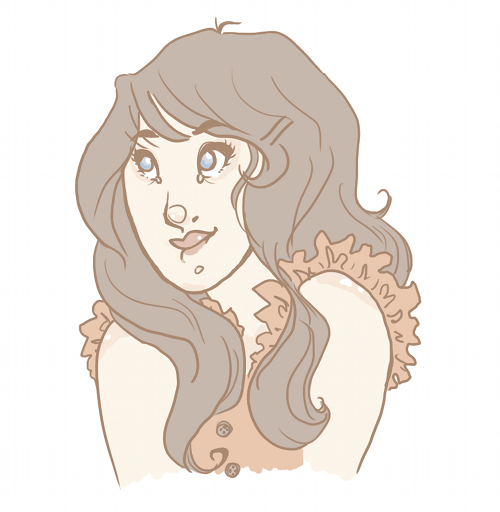 I'm going to go with a flat rate of $25 for each portrait. Each portrait will be more on par with my header image, detail-wise. Here are the details, in case you're interested:
♥ Unless otherwise specified, each portrait will be of your head and shoulders, with one optional "prop" or specific item/accessory (something like the bow tie in my header, nothing big or too detailed).
♥ All colors will be flat except for the optional prop, which can be shaded (just like the bow tie).
♥ I will used a muted color scheme (as seen in examples) unless requested otherwise.
♥ Please provide one or more photo references, or a link to your blog if it contains photos I can use as a reference for your portrait.
♥ I will email you a large, digital copy of the image that you may resize, crop, or otherwise use for your own devices. You are not
required
to link to me if you use the art in your blog, but I would appreciate at least a mention somewhere as the artist. :)
♥ I will accept payment when the product is finished and emailed to you. I will only accept PayPal (please email me for my PayPal account link).
To see more examples of my work and what I'm capable of drawing, visit my
DeviantArt gallery
. Most of the art there is kind of old, but you'll get a better idea of my style if you're so inclined.
If you have any other questions, or if you want to commission me for your custom portrait, please drop me a line at white.duck@gmail.com! And please let me know if there's anything I've missed in the details.
And thank you so much, guys. If you can't afford to or if you're not interested in a portrait for yourself, please pass this on; maybe somebody else will. If even one person buys my art, that's a
huge
help for me. Greg and I can barely afford to do laundry and we're sleeping on a leaky air bed, so this is my only source of income until I find a job. Love you all, and bless. ♥