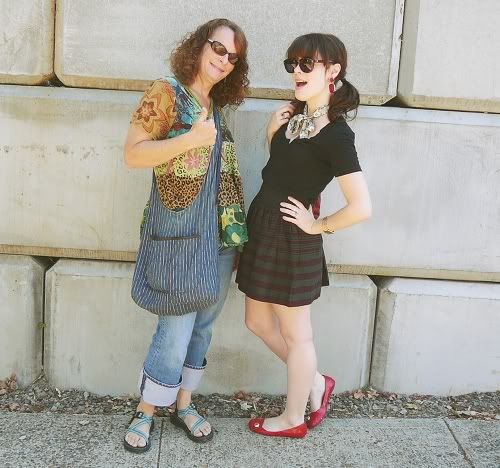 I'm sure you guys must be getting a bit bored with the "OMG MOM'S VISITING" posts, but this is almost the last one. Sadface. I will be sad to see my mom go. We've been having so much fun wandering around my neighborhood and checking out cool vintage stores. We even found these awesome old school games: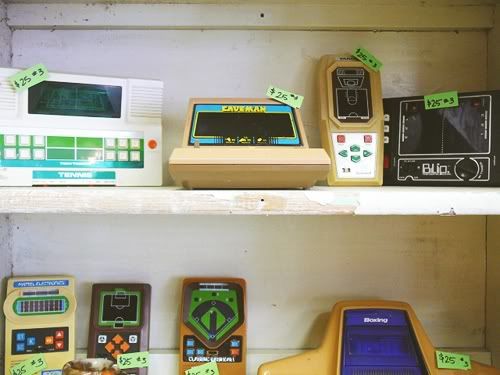 My mom had the Blip game on the top right. Apparently you had to like... wind it up? And an LED light would move around on the screen? Old school! I lol'd.
I decided to show my mom how I take my usual outfit shots, so we posed together and it was super dorky and fun.
I'm wearing: F21 skirt, American Eagle tee, GoJane shoes, Gap scarf thingy worn as bow tie, Ralph Lauren sunglasses, Urban Outfitters backpack.
So let me elaborate on the stupid job sitch. Turns out the job I interviewed for last Thursday, the one I really wanted, decided to temporarily put a hold on hiring, for an indefinite period of time. So nobody's getting hired. But the part that makes it so
frustrating
is that I was on the top of the list of people to be hired! So I
almost
had it, but not. I was so crushed when I heard this, and was embarrassingly crying at the entrance to the Japanese Garden... it was awful. I also thought I was going to be offered a job at Netflix, but turns out they just wanted me for a "face-to-face" interview, which is a group interview, and will involve role-playing and practice customer calls. I want to kill myself just thinking about it. Also it's in Hillsboro, which is like a million miles away... I'm just so discouraged. Oh well, at least I have some prospects. I also have a "seminar" at the Apple Store on Monday, and that would be a cool job, I think. But
ugh
I so wanted that other job, and I would've had it, but
no
, they aren't hiring anymore... sigh. Real life sucks btw.
Enough ranting! I had a great day today, and after my interview tomorrow we're going to Multnomah Falls, which should be really nice. Especially after role-playing...
blergh
!