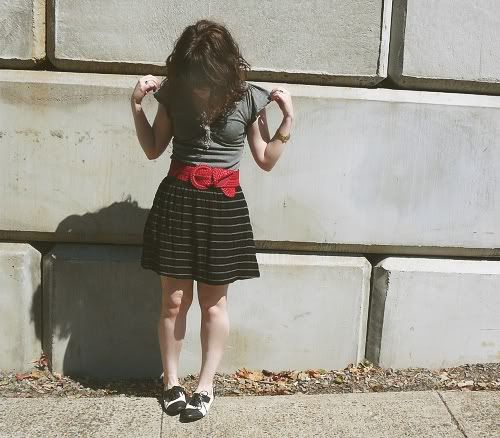 Well, hello dearies. How is it on your end? It's pretty jittery and caffeine-filled on mine. Apparently chugging an iced latte after having a very small breakfast and a stress-filled interview isn't the best idea for calming one's nerves. And yet I did it all the same. But how can I resist, with a Starbucks less than a block away, an iced vanilla latte calling my name? I can't. I never can. I did resist Pioneer Place mall, though. Be proud of me! I certainly am.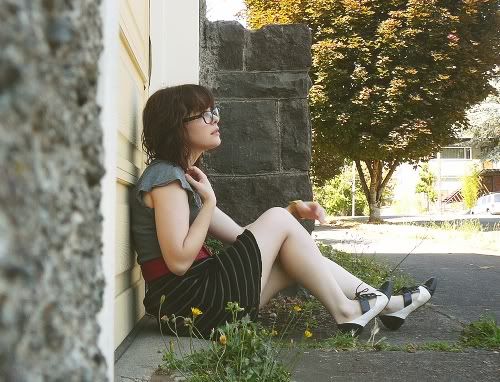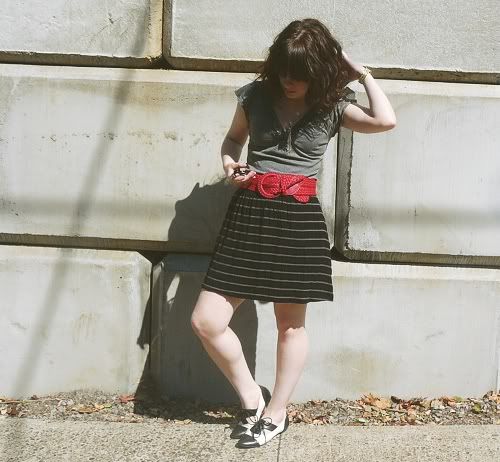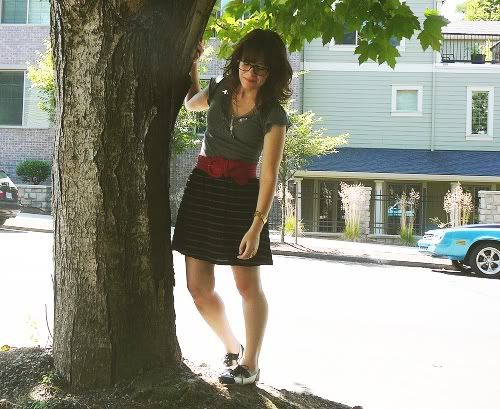 I'm wearing: Express top, F21 belt and dress worn as skirt, Aldo shoes.
I'm proud of myself for another reason today. I wore a dress as a skirt! I always see people doing this, and it seems so effortless, but let me tell you -- I've tried to wear several of my dresses as skirts, and it never works. It's a conspiracy amongst bloggers to make difficult things look easy. But I pulled it off today, at last! You may recognize this "skirt" as the dress from
the other day
, which surprisingly serves as a quite comfortable and relatively flattering skirt (until you look at my butt).
I wore this outfit to an interview at a bridal shop in downtown Portland; I felt like since it wasn't an office job, I could make it fun while still nice and put-together. I'm not sure I succeeded, but oh well, I felt confident about my appearance and I figure that's good enough.
Now let me tell you something about my jaunts into the west side of Portland. They are, almost without fail,
ridiculous
. I arrived on 4th Street with half an hour to spare, but did not find a parking spot for another twenty or so minutes. I still don't really know my way around downtown, so I always just end up driving rather aimlessly, trying to stay in the same relative area as my destination, nervously searching for parking. I'm still too scared to try out a parking garage. I'm afraid I'll do it wrong, back up traffic, and draw hatred from the denizens of the city. No, no parking garages yet for me. Oddly enough I do feel comfortable parallel parking, so I look for Pay to Park spots along the streets. As I drove about today, I ended up by Powell's Books, which is not at all where I needed to be, and drove in confused circles until I ended up a block from where my interview was taking place, with a perfect parking spot (no parallel parking required)! The driving around was annoying, but at least it ended with my finding a good spot. I really need to study a map of downtown so I can be less aimless next time!
Oh god, what, she's telling a story about
parking
now? Jeez. First television shows, then anxiety meds, and now parking. What the crap is gonna be next, her bowel movements? I imagine this this what you are saying as you read this. Or, "cool story, bro," as Greg would say. He is a meanie.
Guess what else is a meanie? THIS WEATHER. I hate summer I hate it I hate it. The end.